Contacts

Kristina Miller
Partner
t:
+61 2 9260 2688
+61 2 9260 2688
m:
+61 418 415 574
+61 418 415 574
o:
Sydney


Six Degrees network
The Six Degrees Network encourages, supports and promotes the inclusion of women by providing leadership, mentoring, education and knowledge-sharing opportunities for our people and our clients.
Referencing the "six degrees of separation" that exists between each of us, the Network aims to foster these connections by creating a forum where we can listen, contribute and learn.
Events & activities
International Women's Day 2021 - #ChooseToChallenge with Grace Brennan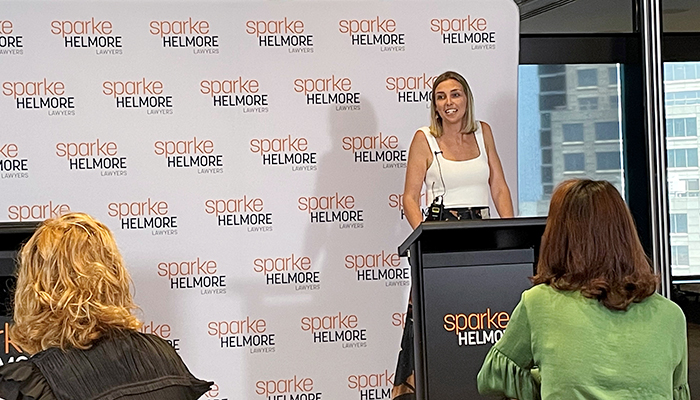 Sparke Helmore hosted its annual International Women's Day event for 2021, welcoming the humble and inspirational Grace Brennan, Founder of Buy from the Bush (BFTB) and recent winner of the 2021 NSW Regional Woman of the Year Award by the NSW Government. We had to run things a little differently this year with COVID still present in our community a year on from our last International Women's Day event; it was exciting to have a hybrid event with some guests present in the room and many others joining us via livestream.
Grace's is a fascinating story of change, growth, resilience and success. She spoke about rising to the challenge that she experienced and saw others experience firsthand in communities suffering from the brutalities of drought. BFTB started with the goal of connecting businesses in drought-stricken areas with a broader audience – asking city folk to invest in home-grown bush businesses for their Christmas shopping. In the first four months after BFTB launched, featured businesses took in $5 million. Twenty per cent of those businesses had to hire more staff, and 98 per cent of them said that BFTB had improved their quality of life – also noteworthy is that most of these business owners (96%) are women.
To achieve such phenomenal outcomes, Grace really did challenge herself and allowed herself to be outside her comfort zone. "On a personal note, I have always thought I had something to say and yet in a work context, I have sat and stayed quiet – too conscious of what I didn't know, feeling unqualified to contribute. In some ways my own experience of BFTB is a micro example of what is possible of people and more specifically, women when they are empowered. I consciously chose to challenge myself – moving towards opportunity and using my voice."
Partner and Chair of Sparke Helmore's Diversity & Inclusion Advisory Committee, Gillian Davidson, commented on this remarkable story of innovation, generosity and strategy—which is so appropriate to the theme #ChooseToChallenge—"in such an honest and authentic way, Grace responded to her community and overcame her fears and self-doubts, leading to success that has multiplied and made a great difference to many".
International Women's Day 2020 - #EachforEqual with Heather Brilliant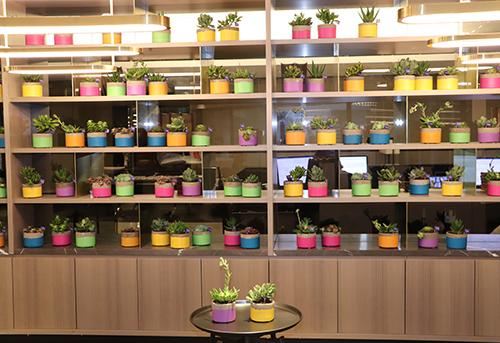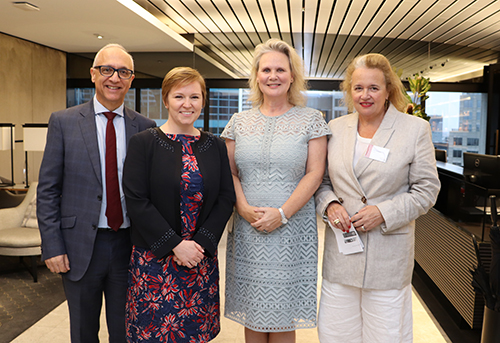 Sparke Helmore celebrated IWD 2020 by inviting Heather Brilliant, CEO of Diamond Hill Capital, to speak to a lively and engaged audience around this year's theme of #EachforEqual.
Heather has forged a stellar career in the financial services sector working for some of the world's best-known institutions. She is passionate about working to change things for the better across the financial services industry, advocating for improvements in transparency, governance, incentives and fiduciary responsibility as well as encouraging women to enter the sector and contribute to the power of diverse thinking.
In conversation with Heather, we heard from her about her personal story as well as anecdotes and tips gathered on her journey through the world of Wall Street and beyond. Starting with her upbringing surrounded by amazing female role models in her mother and grandmother, Heather shared her views on what she sees as the three most impactful actions to move the dial on diversity and support the compelling case for gender parity. She also gave us her thoughts on leadership and the importance of culture and behaviours to an organisation.
International Women's Day 2019 – #BalanceforBetter with Mariam Veiszadeh
Sparke Helmore hosted its flagship International Women's Day client event with Mariam Veiszadeh as this year's guest speaker. Mariam is known to many as a lawyer, Muslim, refugee and fierce D&I advocate, and is now Members & Advisory Director at the Diversity Council Australia.
Mariam spoke to a room of 133 clients and guests, sharing her insights on societal privilege, power, and what it means to 'walk the talk' when it comes to inclusion. In her authentic and very personal address, Mariam looked at the impacts of intersectionality on her experience, and explained how acknowledging bias, prejudice and societal barriers to inclusion are critical to level the playing field for all.
It was a beautiful and inspiring evening.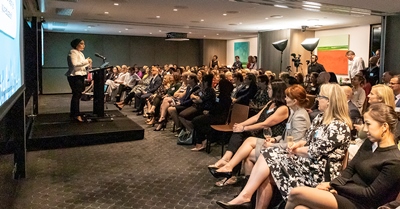 International Women's Day 2018 – with Julia Baird
Sparke Helmore celebrated IWD 2018 by inviting prominent journalist, broadcaster and host of ABC's "The Drum", Julia Baird, to speak with an audience of almost 100 employees and clients.
In line with the IWD theme #pressforprogress, Julia spoke on a wide variety of topics affecting women today and through history. Julia's thought-provoking talk also focused on the media representation of women in politics and the different standards to which they are held. She encouraged women to not apologise, but "occupy their space and forget about likeability" and to "lead from wherever they stand."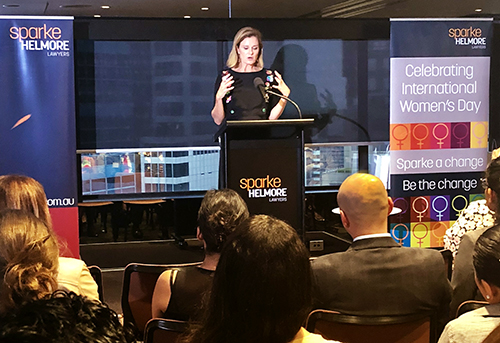 International Women's Day 2017 – with Kitty Chiller
On Tuesday 7 March 2017, Sparke Helmore hosted a special IWD event through our Six Degrees initiative for clients in Sydney. Guest speaker Kitty Chiller, a former Olympian and sporting champion, shared her experiences in the world of elite sport.
Kitty is a 12-time national pentathlon champion, seven-time World Cup medalist and six-time World Cup finalist. She was ranked number one in the world from 1996 to1998 and competed in modern pentathlon at the Sydney 2000 Olympic Games. She was appointed to Deputy Chef de Mission for the 2012 Australian Olympic Team (with swimmer Chris Fydler) and to Chef de Mission for the 2016 Rio Games—her leadership reinvigorated the culture of Australia's Olympic Team.
Kitty captivated the audience as she told the story of her involvement in the Olympics, from athlete to leader. As the first female Chef de Mission during the 2016 Rio Games, Kitty faced significant scrutiny. However, she embraced the challenge ahead of her and, through her leadership of the team, became a living example of this year's IWD theme, be bold for change. In retelling her story, Kitty said that her key to success was to trust your good intentions...harness the support around you and not waver from the mandate.

Media enquiries

Kristina Miller
Partner
t:
+61 2 9260 2688
+61 2 9260 2688
m:
+61 418 415 574
+61 418 415 574
o:
Sydney