Contacts

Katrina Cooper
Inclusion & Diversity Manager
t:
+61 2 9260 2689
+61 2 9260 2689
m:
+61 403 013 302
+61 403 013 302
o:
Sydney


Six Degrees network
The Six Degrees Network encourages, supports and promotes the inclusion of women by providing leadership, mentoring, education and knowledge-sharing opportunities for our people and our clients.
Referencing the "six degrees of separation" that exists between each of us, the Network aims to foster these connections by creating a forum where we can listen, contribute and learn.
Events & activities
International Women's Day 2019 – #BalanceforBetter with Mariam Veiszadeh
Sparke Helmore hosted its flagship International Women's Day client event with Mariam Veiszadeh as this year's guest speaker. Mariam is known to many as a lawyer, Muslim, refugee and fierce D&I advocate, and is now Members & Advisory Director at the Diversity Council Australia.
Mariam spoke to a room of 133 clients and guests, sharing her insights on societal privilege, power, and what it means to 'walk the talk' when it comes to inclusion. In her authentic and very personal address, Mariam looked at the impacts of intersectionality on her experience, and explained how acknowledging bias, prejudice and societal barriers to inclusion are critical to level the playing field for all.
It was a beautiful and inspiring evening.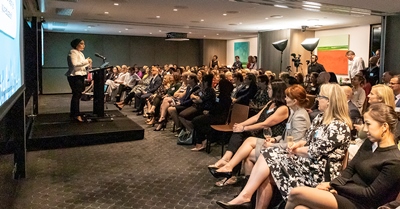 International Women's Day 2018 – with Julia Baird
Sparke Helmore celebrated IWD 2018 by inviting prominent journalist, broadcaster and host of ABC's "The Drum", Julia Baird, to speak with an audience of almost 100 employees and clients.
In line with the IWD theme #pressforprogress, Julia spoke on a wide variety of topics affecting women today and through history. Julia's thought-provoking talk also focused on the media representation of women in politics and the different standards to which they are held. She encouraged women to not apologise, but "occupy their space and forget about likeability" and to "lead from wherever they stand."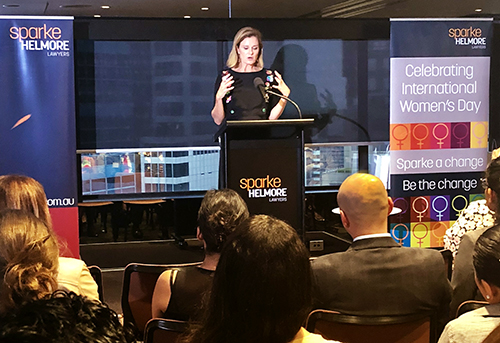 International Women's Day 2017 – with Kitty Chiller
On Tuesday 7 March 2017, Sparke Helmore hosted a special IWD event through our Six Degrees initiative for clients in Sydney. Guest speaker Kitty Chiller, a former Olympian and sporting champion, shared her experiences in the world of elite sport.
Kitty is a 12-time national pentathlon champion, seven-time World Cup medalist and six-time World Cup finalist. She was ranked number one in the world from 1996 to1998 and competed in modern pentathlon at the Sydney 2000 Olympic Games. She was appointed to Deputy Chef de Mission for the 2012 Australian Olympic Team (with swimmer Chris Fydler) and to Chef de Mission for the 2016 Rio Games—her leadership reinvigorated the culture of Australia's Olympic Team.
Kitty captivated the audience as she told the story of her involvement in the Olympics, from athlete to leader. As the first female Chef de Mission during the 2016 Rio Games, Kitty faced significant scrutiny. However, she embraced the challenge ahead of her and, through her leadership of the team, became a living example of this year's IWD theme, be bold for change. In retelling her story, Kitty said that her key to success was to trust your good intentions...harness the support around you and not waver from the mandate.


International Women's Day 2016 – with David Morrison
On Thursday 10 March 2016, we hosted a special IWD event in Sydney with guest speaker David Morrison, 2016 Australian of the Year and Chair of the Diversity Council of Australia. He shared his very personal story of how and why he became a champion for gender equality and diversity more widely, captivating the 150-strong audience of our clients and staff.
Talking about his time as Chief of Army from 2011 to 2015, David shared that he was confronted with the issue that women have made up less than 10% of the Army over the past century. He realised that a significant factor affecting this low figure was the Army's culture of exclusivity and set his sights on finding the language that would make its culture inclusive. He discovered this language of change after visiting soldiers serving in Afghanistan; "more diverse, more inclusive workforces are more capable...It's about encouraging people to offer their views that would be different from the status quo's, to disrupt complacent thinking, and to try and solve tomorrow's problems with tomorrow's solutions".
---
Sponsored screening – ICEBERG
ICEBERG is a documentary that followed Kirrily Dear, founder of Run Against Violence, as she ran 860km across regional NSW to raise awareness and break the silence surrounding domestic violence within our communities. For the first time on film, ICEBERG gives voice to many facets of family violence and the difference we can all make in creating positive change.
The documentary was launched on 19 November 2015 at the Dendy Opera Quays in Sydney. Sparke Helmore sponsored the film as part of its Six Degrees initiative and hosted the premiere because the documentary is an important educational tool for organisations and schools to use. Screenings of the documentary were also held in Sparke Helmore's offices for International Women's Day. Click here to read more about ICEBERG.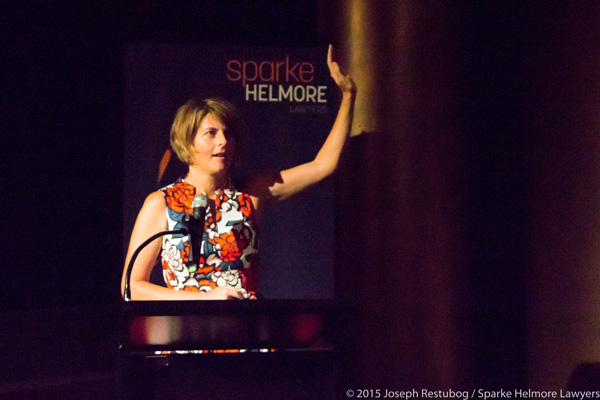 Above: Kirrily speaking at the premiere.
---
Diversity & Inclusion Sydney Roundtable
An invitation-only senior executive Diversity & Inclusion Roundtable was hosted by Kristina Miller, Patron, Six Degrees, on 29 October 2015 at our Sydney office. The guest speaker was Heather Price, a dynamic businesswoman and respected thought leader on diversity and inclusion. Heather has a leading reputation, locally and internationally, and works with executive leadership teams around the world.
---
International Women's Day 2015 – with Annabel Crabb
On Wednesday 11 March 2015, we hosted a very special IWD event for our clients and staff with Annabel Crabb.
Through candid and funny stories from her work in and around politics and the media, Annabel spoke about the serious issue of the different standards and cultural expectations applied to men and women in politics and the workplace, and how these skew the way we behave.
As the chief political writer for ABC online and host of ABC's Kitchen Cabinet series, Annabel was able to give unique and in-depth insights into the challenges that female politicians face in juggling a senior career in politics and raising a family.
Annabel's talk was enjoyed by all and sparked lively debate and discussion over the drinks and delicious canapés that followed.
Click on the arrows either side of the image below to scroll through a gallery of photos from the night.
---
Tracey Spicer talk
On Wednesday 15 October, our Sydney office played host to a special Six Degrees talk from journalist and news presenter Tracey Spicer. 
Tracey gave an inspiring and candid talk about her personal experience juggling motherhood and work, and her mission to "challenge this stupid image of women in television as size 6, immaculately groomed, impossibly perfect creatures who never age."
After losing her job eight years ago due to pregnancy discrimination, Tracey now has a portfolio of work that includes writing columns for Fairfax, anchoring the news at Sky, teaching at the Australian Film, TV and Radio School and flying around the world giving keynote speeches.
Media enquiries

Katrina Cooper
Inclusion & Diversity Manager
t:
+61 2 9260 2689
+61 2 9260 2689
m:
+61 403 013 302
+61 403 013 302
o:
Sydney