In Kind Report
Sparke Helmore's In Kind Social Sustainability Report FY2016/17 looks back at some of the fantastic community projects we've been involved in and provides an update on our pro bono contribution since we became a signatory to the National Pro Bono Aspirational Target. It also includes information about how the firm is reducing its environmental impact.
Through our Pro Bono Program, the firm provides legal assistance at reduced rates or no cost, to charitable and not-for-profit organisations as well as referred individuals. Matters are often referred to us by our pro bono partners or put forward by our staff as causes that are important to them.
In Kind also features a number of community activities we've been involved in, including the Sparke Helmore Newcastle City Triathlon and Upper Hunter Education Fund, as well as our work with national charity partners Australia's National Research Organisation for Women's Safety, Royal Institute for Deaf and Blind Children and batyr.
We are also proud to have exceeded the National Pro Bono Aspirational Target for the third time in a row since becoming a signatory in 2013, providing 38.4 hours of pro bono legal assistance per lawyer, with a total of 11,982 pro bono hours across the country.
Sparke Helmore's Pro Bono Program & Community Program are part of the firm's ongoing commitment to providing legal services that make a real difference.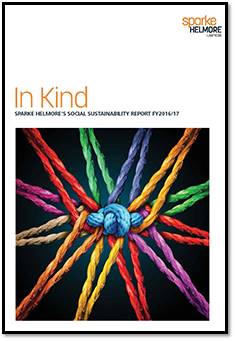 A flip-book version of In Kind can also be viewed by clicking on the image above.
To view our previous In Kind Report, click here.