Contacts

Nick Christiansen
Partner
t:
+61 2 9260 2443
+61 2 9260 2443
m:
+61 404 820 086
+61 404 820 086
o:
Sydney


In Kind Report
Sparke Helmore Lawyers is committed to socially responsible business practices, which includes having a positive impact on the communities in which we operate. We are proud to be part of a broader legal community that continues to invest significantly in pro bono activities for the public good.
We're delighted to share with you our social sustainability report—In Kind—a short report that provides a snapshot of the pro bono legal work and community activities our people have engaged in during the 2022/2023 financial year. Having once again met the National Pro Bono Target, we provided 1,942 hours of pro bono legal work for individuals experiencing disadvantage and charitable organisations.
Sparke Helmore's Pro Bono Practice & Community Program are part of the firm's ongoing commitment to make a real difference.
We hope you enjoy In Kind. If you would like to get involved with some of our activities this year or if you think we may be able to support a charitable organisation that is important to you, please contact us.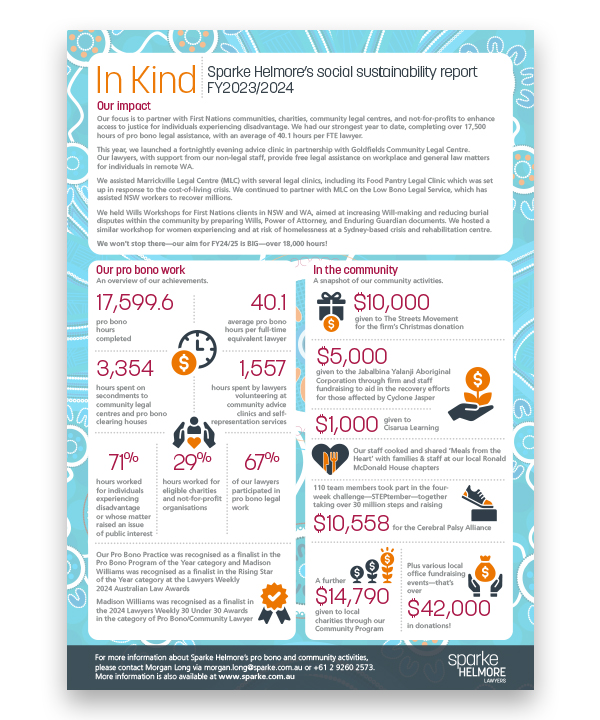 A PDF version of In Kind can also be viewed by clicking on the image above.
View our previous In Kind report FY2020/2021.
Media enquiries

Nick Christiansen
Partner
t:
+61 2 9260 2443
+61 2 9260 2443
m:
+61 404 820 086
+61 404 820 086
o:
Sydney