Contacts

Merryn Stewart
Business Development & Marketing Director
t:
+61 2 9260 2591
+61 2 9260 2591
o:
Sydney


Our Community Program
Sparke Helmore provides non-legal support to local not-for-profit organisations and charities through our Community Program, as well as pro bono legal advice through our Pro Bono Program. The focus of these programs is to have a positive impact on our local communities and build local connections.
Christmas appeal
Sparke Helmore has a tradition of supporting people in need at Christmas. In 2017, we supported Ronald McDonald House Charity (RMHC) with a $10,000 donation and by purchasing Christmas cards designed by RMHC to send to our clients, with a portion of the cards' cost going directly to RMHC.
Payroll giving
Sparke Helmore's payroll giving initiative offers staff a simple way to regularly donate to charities of their choice as a salary sacrifice through automated payroll deduction. To be eligible to receive support through payroll giving, organisations simply need to be registered as a tax deductible gift recipient, be entitled to receive donations via electronic funds transfer and have a current profile on the Benojo platform.
Resource sharing
The firm shares its resources such as meeting rooms, teleconferencing facilities and networks, with its not-for-profit and charitable pro bono clients. We also offer these clients the opportunity to attend any training sessions that we hold relevant to their business.
Community volunteering
Our staff are encouraged to volunteer their time and support organisations in their local communities. The firm provides a number of opportunities to get involved and welcomes new volunteering suggestions from staff. Paid volunteer leave days are allocated to selected staff every financial year.
A volunteering activity may include skilled or unskilled tasks and can take place in or out of the office. The purpose of this initiative is to acknowledge the relationships that many of our staff have with community organisations, to build stronger relationships with our pro bono clients and to provide an alternative means of team engagement.
Community Service Leave
Our Community Service Leave Policy supports staff with paid leave entitlements for eligible community service activities, such as jury service and voluntary emergency management activities.
Triathlon
Since 1994, the annual Sparke Helmore Newcastle City Triathlon has been Newcastle's premier participant sporting event, raising more than $468,000 for various local charities and sporting groups. The Triathlon is held each year around late February, early March.
Other local activities
Many staff members are actively involved in a range of community organisations, from the grassroots level to the boardroom. In recognition of this, the firm regularly hosts or participates in local activities to support community organisations.
For example, we support The Nappy Collective with its collection of unused disposable nappies for women's refuges and family crisis centres. Since 2016, we have donated approximately 2,100 nappies and provided the hub for counting, sorting and packaging. We have worked with community and business volunteers to distribute more than 23,000 nappies to local beneficiaries, meaning families will not have to choose between purchasing food or nappies.

Our staff regularly approach us through our Community Program to fundraise for causes close to their hearts. For example, in 2017, Sparke Helmore volunteers competed in Race for Change, a 200km cycling race, raising $5,425.75 for The Benevolent Society to help disadvantaged Australian children and families.
In Kind Report
The In Kind social sustainability report FY2017/18 provides insight into some of our key community and pro bono activities, as well as the challenges faced by the organisations and individuals we work with each year.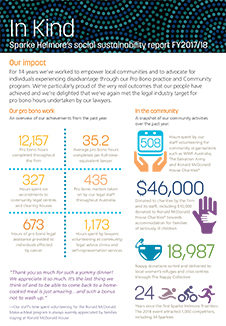 You can also view the previous In Kind social sustainability report FY2017/18 here.
Media enquiries

Merryn Stewart
Business Development & Marketing Director
t:
+61 2 9260 2591
+61 2 9260 2591
o:
Sydney