---
Cyber Update - Issue 1
07 October 2022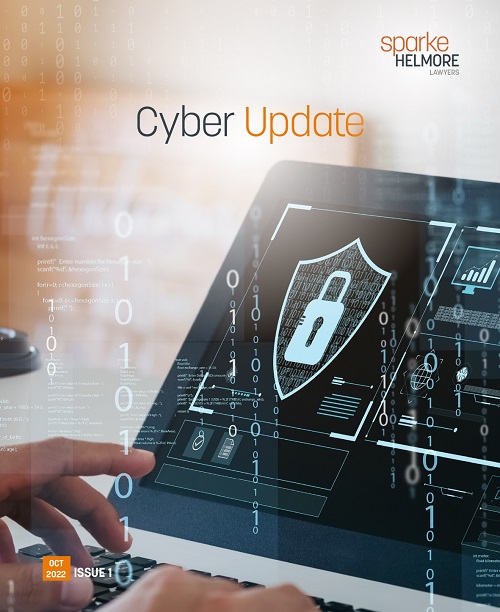 Welcome to the first issue of Sparke Helmore's Cyber Update, a new publication providing you with a selection of essential updates on the fast-paced world of cyber and aimed at keeping you at the forefront of issues and legislative changes and impacts.
In this issue, we focus on national and international cyber topics relevant to industries and businesses. We also feature a special cyber update from New Zealand firm Duncan Cotterill, a fellow member of our Global Insurance Law Connect network.
Topics covered in this issue are:
Cyber-attacks on critical services: around the grounds
Natural disaster, warfare and the changing political and economic landscape: the impact on cybercrime
The changing face of the legislative landscape
Our take on Inchcape Australia Ltd v Chubb Insurance Australia Limited (2022) FCA 883.
DIY Insurance: are captive insurers the future of cyber insurance?
Supply chains: you are only as strong as your weakest link
Who is accountable for cybersecurity?
Current trends of cyber risk in New Zealand—The role of risk management and insurance
Click the image to open a PDF version of the publication. You can also access a print-friendly version of the PDF here.
If there are any topics you would like us to cover, please send an email to jehan.mata@sparke.com.au
Why Sparke Helmore?
Sparke Helmore's national cyber practice, led by Partners Jehan Mata and Mark Doepel, offers comprehensive cyber expertise across both individual and company risk. Our extensive experience includes advising on privacy notifications and notifiable data breach issues, cyber policy drafting, acting as coverage and monitoring counsel, and managing recovery efforts, including asset tracing and subrogated claims.
Our clients benefits from our experience across the full spectrum of cyber breach matters. We manage claims efficiently and provide strategic advice on legal and regulatory exposures. We engage in risk mitigation with both insureds and insurers on "Lifecycle Issues" (through training, incident response triage, third-party contract reviews, and coordinating service provider support during times of breach). In addition to providing advice, we help educate our clients on emerging cyber trends and topics. Our team has presented extensively on cyber insurance and contributed significantly to thought leadership in this space.
As a full-service firm, Sparke Helmore leverages the expertise of our technology law and advisory specialists along with our panel of third-party vendors to support our clients on their end-to-end cyber lifecycle needs. We have a thorough knowledge of the cyber solutions, platforms and providers in the market and can provide insights into innovative cyber risk solutions. Given the potential for a cyber claim to have wide-reaching international regulatory exposure, we can assist with any offshore cyber-related matters, leveraging our affiliated members through our Global Insurance Law Connect network.