Training Programs
Bespoke, co-designed, large-scale training that achieves an agency's specific organisational needs, consistent with its underlying capability framework, priorities, operational realities and budgetary constraints.
Training Programs are designed to address/respond to a lack of resources, scrutiny, risk management and entrenched behaviours /cultural issues. The Training Program approach provides opportunities for agencies to embed cultural change and capability building, support collaboration and consultation, demonstrate investment in staff, give a value-for-money service, and support the overall effectiveness of portfolio programs.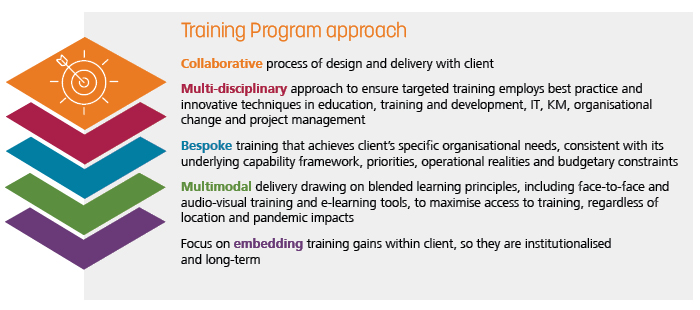 Case study
Commonwealth agency-wide training program
Sparke Helmore bring insights, learnings and know-how gained from delivering one of the largest recent training projects to the Commonwealth.
Since November 2020 Sparke Helmore has collaborated with a Commonwealth agency to successfully co-design and deliver a multi-phase, targeted program of comprehensive training for its national (non-legal) workforce. The training program covers a range of areas including the agency's legislative and regulatory framework and the responsibilities, obligations and powers of staff. Its intended outcome is that agency staff will be able to operate with greater confidence and legal knowledge when presented with the many and varied decisions they face in the field.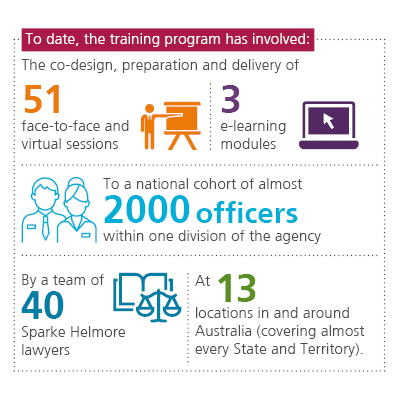 Client feedback
"The relevance to our Departmental duties in scenarios was excellent. Our group participants ranged from fairly new starters through to long-standing, experienced staff and all the varying needs/levels were very well covered. The knowledge of our duties by the presenters was so refreshing on a training course!!"
"Great scenarios and very nice presenters that were very engaging - 10/10 for them."
"I honestly rate this as one of the best training sessions I have had".
"It was great to get hands on with the legislation but have someone there to guide navigation to make it efficient."
"Both facilitators did an excellent job explaining a very complex media. They were able to keep us all engaged, entertained and most importantly help us understand the mind set required in utilising our legislative powers. Highly recommend!"
"Gives me more confidence going forward of my role and powers within my position."
"Examples used were relatable and able to put them into context of my working day."
"It has made me more aware of my regulatory responsibilities and that these are really central to our role and not adjacent."
"The team now understand the importance of legislation and the powers that we have to perform our functions. There is an understanding that legislation is not something to be afraid of, but when applied correctly can empower you to conduct your duties to the best that you can with confidence."
"Fully engaged facilitators with intimate knowledge of subject and ability to engage participants with questions to prompt further in depth thought."
"Relaxed environment and run in a very non-judgmental way. Facilitators were very helpful and easy to talk to. The content was great for building confidence when dealing with situations that are out of the blue."
"I found that the presenters were very down-to-earth which helped when I was struggling with a particular concept. When I had a different opinion to someone else, neither person was made to feel stupid, instead both parties were made to feel validated which promoted conversations and questions throughout the day."
Register interest
Contacts

Bernadette Rayment
Partner
t:
+61 2 9373 1480
+61 2 9373 1480
m:
+61 403 501 079
+61 403 501 079
o:
Sydney



Karwan Eskerie
Partner
t:
+61 2 9260 2466
+61 2 9260 2466
m:
+61 424 893 572
+61 424 893 572
o:
Sydney