---
Sparke Helmore celebrates 140-year anniversary
19 September 2022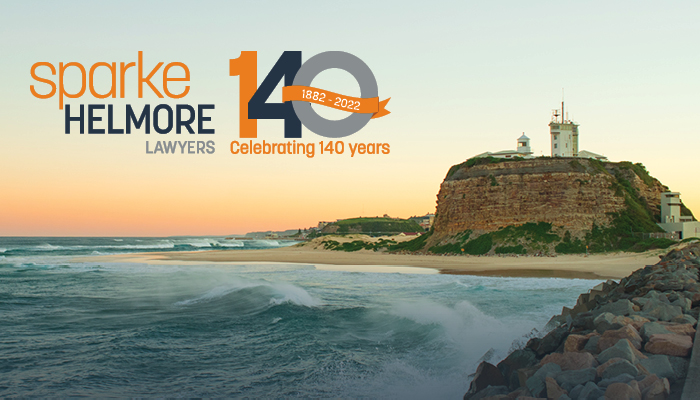 140 years in the making
Sparke Helmore's origins began on 2 September 1882 with westerly winds blowing red dust along Hunter Street, half-blinding horses and pedestrians. It was a period of drought and local butchers apologetically advertised a serious shortage of beef and a Newcastle building society was offering loans of £200 ($5,810.02 in today's value) at 51% per annum.
It was on this day that William Sparke was admitted as 'Attorney, Solicitor and Protector of the Supreme Court of NSW'. The motion was made by the first Prime Minister of Australia and one of the first judges of the High Court, Sir Edmund Barton. A week after his admission, William Sparke was in business in Hunter Street in an office adjoining the (then) American Consulate.
Mr Sparke's first big case was the devastating Hamilton pit disaster of 1889, when 11 men became entombed. Mr Sparke appeared for the Crown and remembered that among the evidence produced was a tucker tin on which was scratched a simple poignant message from one of the miners: "John Meadows; aged 30 years; seven days starvation".
Mr Sparke built an exceptional corporate practice and often referred to his work as "kaleidoscopic— one day down the depths of the coalmine, next day on the high seas in collision or salvage cases or wrestling with the intricacies of constitutional points".
In 1922 the firm became Sparke and Helmore. Dr Basil Helmore was Mr Sparke's young articled clerk, who was back from two years of war and was admitted as a solicitor in 1920, specialising in property, mercantile and mining law.
Dr Helmore was deeply involved in the life of Newcastle. He worked for the establishment of the University (now the University of Newcastle) and was its first Warden of Convocation. Dr Helmore was also chairman of directors of the Newcastle Gas Company for 26 years and president of the Newcastle Law Society in 1957-58.
Dr Helmore's attitude was "Take any job that comes and get to know a bit about everything. A good solicitor must have experience in practically everything."
Peter Withycombe was admitted in 1939 and after serving in World War II, he returned to the firm in 1947 and became a partner in 1949. The firm then became known for a number of years as Sparke, Helmore and Withycombe. His granddaughter Susan Withycombe-Taperell has continued in her grandfather's footsteps and today, works as a Senior Associate in the firm's Newcastle office.
Paul Anicich was clerked to Peter Withycombe from 1965-70 and became a partner in 1971. Following Paul's entry into the partnership, many of our partners past and present have contributed to strengthening the foundations of growth and forging success including Nick Meagher, Jann Gardner, John Davis, Desiree Scholz, Gary Flowers, Geoff Woolf, George Smith, Richard Anicich, Daryl Gray, Catherine Wilkinson, Tony Deegan, Helen Murray and Phillip Salem.
So, with a respectful nod to our amazing past and the many wonderful people who have passed through our doors—we are one of the oldest surviving companies in Newcastle and one of the oldest law firms still operating in Australia— Sparke Helmore celebrates its 140-year anniversary!
Our best is yet to come!
Sparke Helmore Lawyers today is a truly national award-winning firm that covers five core areas of law and has more than 30 specialised areas of expertise. From our humble beginnings, we're now close to 900 people strong across nine offices, servicing a loyal client base of Australian and global organisations.
Our two Hunter locations currently have a combined 13 partners who are each leaders in their fields and with their teams, service clients across many sectors including property, resource development, defence, health and education. Growth to meet client demand is a cornerstone of our strategy and in 2020 Sparke Helmore joined forces with Laycock Burke Castaldi in a move that echoed Mr Sparke and Dr Helmore's traditions of 'keeping it local'.
As we head into our 140th year, we reflect on the many great businesses we have partnered with over the years and will continue to work with into the future to drive the growth and transformation of our regional economy. The future of the Hunter has never been more positive and our aim is to continue to provide high quality legal services to enable regional businesses to participate in and profit from the continued evolution of Newcastle and the Hunter.
But there's so much more to Sparke Helmore than just the law. Since 2007 we have provided mentoring for women through our Six Degrees Network and we've also supported the University of Newcastle Law Students Association (UNLSA) Women in Law events since 2012. It gives us a great sense of purpose to nurture and encourage the next generation of talent; it speaks to who we are as a firm and to who we want to continue to be into the future.
We're also active members of the community through fundraising for local charities and not for profit organisations including as a proud sponsor of the Sparke Helmore Triathlon, run every year in November and now in its 29th year.
Sparke Helmore would not be where it is today without the support of our loyal Newcastle and Hunter community. Thank you—and we look forward to celebrating our 140th milestone with you over the coming 12 months!