Nicole Garrett
Head of Talent Acquisition
t:
+61 2 9260 2439
+61 2 9260 2439
m:
+61 401 390 559
+61 401 390 559
o:
Sydney


Why Sparke Helmore?

We believe the best stories are shared. What's your story?
At Sparke Helmore, you'll be actively involved as part of a diverse, genuine and friendly team. We'll help you harness your ambition and take your skills to new heights with exposure to outstanding clients and easy access to exceptional leaders and mentors.
Because we are interested, we take the time to get to know you. We want to know about your hopes and aspirations and what your concerns might be as you navigate your career and balance work and life.
In joining Sparke Helmore, you will join a firm that values everyone's opinions. That's why we have structured feedback programs and informal conversations to find out how we can keep making our firm the best it can be. In fact, in our last engagement survey, our people told us that our managers are great at building teams, providing recognition, valuing contribution and being responsive.
We want to be known as a market-leading Australian law firm that our clients choose for outstanding people, legal expertise and our ability to connect. It's important to us and we expect you, if you decide to become a part the team at Sparke Helmore, to want to be part of that vision too. It's about working together with each other and with our clients, who are at the heart of everything we do.
We think that's why we get interesting work from great clients, clients who have been with us for many years and love working with us as much as we value working with them. Many of them are household names including ASX 100 companies, international insurers and other multi-nationals as well as large government departments and agencies.
Your story is yours to define. We'd like to be part of it and for you to be part of ours.
What does this mean? It means:
We'll be in it together—At Sparke Helmore, you'll be actively involved as part of a diverse, genuine and friendly team. We'll welcome you into our warm, vibrant culture where you'll work collaboratively within a truly national firm to deliver results. Of course, covering a big country needs a big team. We're more than 850 people strong, servicing an enviable client base of Australian and global organisations from nine offices – and working remotely.

We'll invest, and be invested, in your career—We'll help you harness your ambition and take your skills to new heights with exposure to outstanding clients — who are always at the heart of everything we do — and interesting work. You'll also have easy access to exceptional leaders and mentors who are practical experts in their fields. We'll also invest in your career, development and potential through training and mentoring programs, secondments, supported further education, and pro bono and community activities.

You'll be set up to succeed with support for flexible working, policies that will help you at different stages of your life and the resources and tech you'd expect from a leading firm.

We'll value your contribution—Your contribution will help shape our future and drive our growth. We'll express our appreciation in many ways, including through structured and informal feedback, team celebrations, story sharing, competitive remuneration and acknowledgement of anniversaries. We also have recognition and incentive programs, including our incentive scheme for introducing new clients, a candidate referral program and Shine@Sparke, a peer-nominated rewards program.

We offer many benefits, including wellbeing, health and wealth initiatives, diversity and inclusion networks, social activities and pro bono and community opportunities. To help you to achieve the balance you want, we also offer options around part-time work, compressed work weeks, mobility and varied hours, emergency childcare, purchased leave and career breaks. What's not optional is the birthday leave you'll enjoy each year!

We'll look after each other—While we're a big, diverse team of fabulously individual people, we're united by our shared values and vision. Our core values guide how we do things at Sparke Helmore. They shape the way we behave, help us work together effectively and make sure we put our clients first without forgetting our people. And looking out for each other—well, that just comes naturally.
Read our Employee Value Proposition to get the full story.
Want to know more about us?
We have come a long way since our doors opened in the Hunter in 1882, evolving and expanding our capabilities and services to reflect the changing landscape and needs of our clients. Yet some things remain constant - our ability to collaborate and deliver results. Working together effectively lies at the heart of everything we do and achieve, whether it's with our clients, people, suppliers, or communities in which we serve.
Read more about our history.

Read some of the reasons why you should join us.

Read more about our Government team.
Watch this video to hear from members of the Government team who are ready to make you feel welcome from day one.

Read more about our Commercial Insurance team.
Watch this video from members of our Property team as they share with you "a day in the life" of working at Sparke Helmore.

Read about our Firm Advisory Services Team—or FAST—the team that supports our lawyers to deliver excellence in legal advice and best practice in client service. FAST is made up of Finance, People & Culture, Talent Acquisition, Learning & Organisational Development, Knowledge Management, Information Technology, Business Development and Marketing & Communications, Office Services & Premises, and Internal Legal & Risk.

Meet some of our people and hear their stories.
Find out more about what we can offer you
We recognise people value benefits differently. That's why our benefits program is wide ranging so that everyone can find something that appeals to them. We're sure you will find something to love about what we have to offer.
Sparke Wellness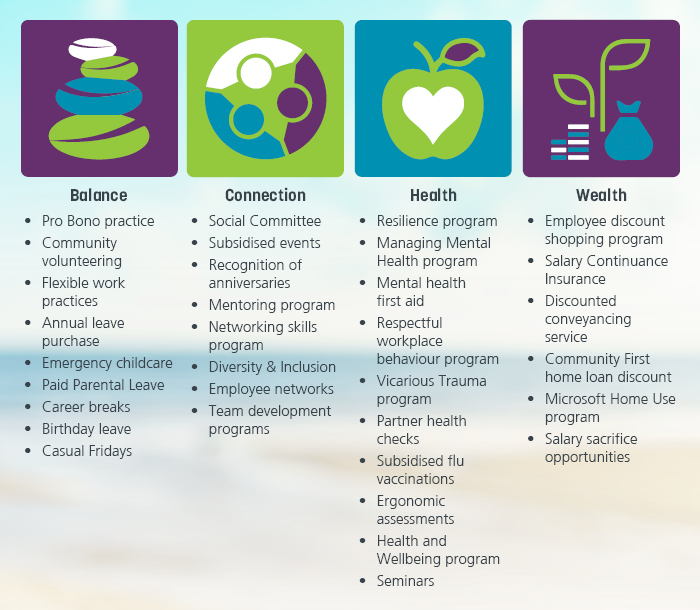 Reward
We have worked hard to ensure we can provide you with a meaningful range of financial and non-financial rewards to encourage you and to recognise great work. These include:
market competitive salaries
an incentive scheme for eligible staff who exceed expectations on financial contribution and overall performance
Shine@Sparke peer nominated rewards, and
spotter's referral program, which pays up to $10,000 for successful referrals of legal and non-legal employees.
Development
We place a high priority on your development. We offer:
formal learning development program
career mentoring, technical and leadership development courses
one-on-one training secondment opportunities, and
financial and leave support for further education.
With a capability framework that defines the key skills and performance indicators for every role and provides clarity around career development pathways, we are all about helping you achieve your goals.
Balance
We appreciate that finding balance between working hard and spending time doing other things can be a juggling act. We will support you to maintain a healthy work/life balance by providing a variety of sporting and social activities, lifestyle and health seminars and tips, and flexible work arrangements so you can spend more time with your family and friends and pursue your interests or even further study.
Diversity & inclusivity
Diversity
To us, valuing diversity and inclusion means creating a workplace that respects, includes and values differences, recognises and nurtures the contributions that individuals make, and fosters a work environment that maximises the potential of all of our people. Learn more about Sparke Helmore's D&I program and our six employee-led networks.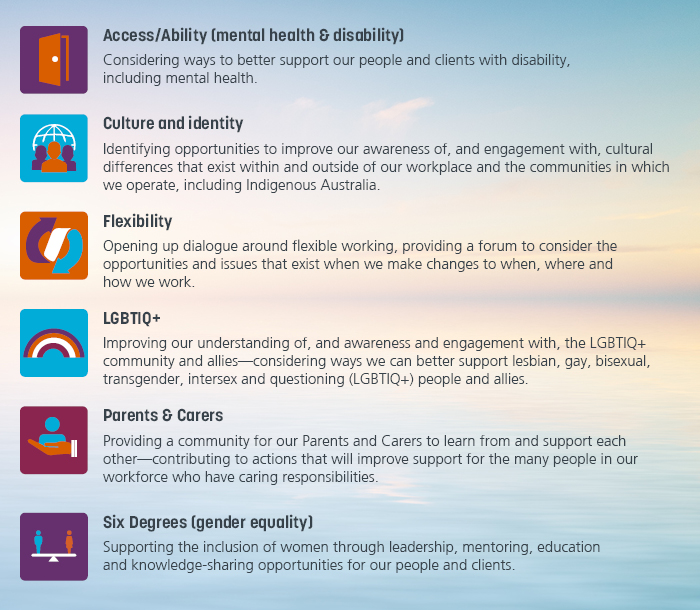 Pro bono
Pro bono work enables us to meet our ethical obligation to enhance access to justice. We provide legal advice and services on a no fee or substantially reduced-fee basis to non-profit organisations and disadvantaged individuals.
Community
We support our community through staff participation in community and philanthropic activities, such as volunteering, mentoring, resource-sharing and fundraising.
Environmental, Social and Governance
We support sustainability by sourcing environmentally responsible products and managing and monitoring our resource consumption.