Erin Tomicic
Talent Acquisition Consultant (Graduates)
t:
+61 2 6263 6355
+61 2 6263 6355
m:
+61 415 305 098
+61 415 305 098
o:
Canberra

Graduate program
GradAustralia Awards 2023 - No 1 for Workplace Culture and No 2 for Overall Graduate Satisfaction
2022 was a big year for the Graduate Talent Acquisition team seeing the recruitment of our largest ever intake of Graduates across the firm. What better way to celebrate this with the wonderful news that we were voted No 1 for Workplace Culture and No 2 for overall Graduate Satisfaction with strong Top 10 placing in several other very important categories.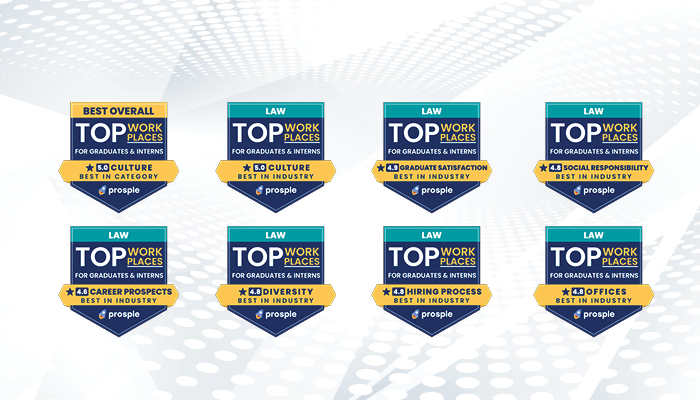 See what our graduates have to say about launching a career at Sparke Helmore
Read Sparke Helmore's latest graduate brochure.
Why choose Sparke Helmore?
Sparke Helmore offers graduates a challenging and rewarding way to kick start their legal career.
Working at Sparke Helmore provides all employees with a unique range of opportunities to expand their knowledge, with access to:
Market-leading expertise—we are a full service national law firm who work with a loyal and exceptional client base. You will be involved in matters that will engage you, challenge you and give you unparalleled opportunity to grow and deepen your expertise.
Real legal work—from your first day, you will have the opportunity to get involved in legal work that contributes to the firm and its clients.
Training and development—a combination of formal and on-the-job training that covers technical and soft skills.
Mentoring and networking—we have a proud reputation for mentoring and facilitating relationship building across the firm in a way that fosters personal and career development, networking and the sharing of knowledge, experience and learning.
What do we look for in our graduates?
Our people are key to our success. We are always on the look-out for graduates with potential to progress, who fit with our culture and align with our values, and who demonstrate, among other things, intelligence, interpersonal skills, commitment, energy and commerciality.
Sparke Helmore graduates are:
"All-rounders" who engaged in extra-curricular pursuits as well as their studies (our graduates have often excelled at mooting, debating, team sports or student politics in addition to their studies)
Team players
Clear and concise writers
Confident and articulate communicators
Experienced in any of the following: summer clerkships, casual paralegal positions, voluntary legal aid experience and tipstaffing
What can you expect as a graduate at Sparke Helmore?
The first year of practising law can be daunting. Our graduates follow a program designed to guide you through the experience, providing you with comprehensive training and mentoring as well as networking opportunities.
The program includes specialised soft skill training to equip you with the tools and knowledge you need to become a capable and well-rounded practitioner. The training covers areas such as time management, business development and firm finances. You will also get to work on high quality, complex matters with leading legal practitioners from your first day.
Our graduates also have access to the firm's mentoring program, which pairs you with a senior lawyer in another practice group, to give you a broader understanding of the firm and its other practice areas.
What past graduates have to say
I started the Sparke Helmore graduate program in 2023 although I joined the firm a year earlier as a paralegal at first seconded to a large government department. Prior to joining Sparkes I had spent the majority of my career working in government so joining private law was a daunting prospect for me. But Sparkes has made me feel welcome and supported every step of the way and made me realised I had nothing to fear.

My colleagues at Sparkes are some of the kindest and most supportive people I've ever met. I never feel afraid to ask for guidance or raise a concern on any matter large or small. I can just as easily go to a partner or senior associate for advice on a work issue as I can to chat about the footy or weekend plans.

Sparkes is constantly interested in how I am progressing as a legal practitioner with consistent training opportunities like workshops, presentations, video seminars and talks. A particularly helpful opportunity that Sparkes offers is a mentorship program that pairs a junior with a senior. Often the senior is in a different practice area and in a different city so they can provide a different perspective and leverage a different skillset.

The grad recruitment process was accessible and straight forward and the Talent Acquisition team did a great job keeping me informed at every stage of the process. The grad program itself was a fantastic way to start my legal career. From the very beginning I have had the opportunity to engage in meetings with clients, draft advices and amend contracts. While I always feel supported, I am allowed an opportunity to leave my own impact and hone my skills.

— Marcus Simmonds, Graduate (now Lawyer)
From the start of the interview process until now as a graduate at the firm, Sparke Helmore has always stood out to me as a supportive, inclusive and reputable firm. Sparkes recognises that graduates are the future of the firm and invests time, resources and energy into developing graduates to become the best lawyers we can be. Each partner and lawyer I have had the opportunity to work with has been down to earth and approachable, taking a genuine interest in getting to know you and your interests. As a graduate in the Corporate and M&A team, I have had the opportunity to work on a variety of fascinating matters, spanning from corporate governance issues, IPOs, modern slavery, share and company acquisitions and undertaking due diligence. Even as a junior, I have been exposed to large and complex transactions with blue chip clients and I am afforded autonomy and responsibility over my day-to-day work. I have also been involved in several rewarding pro bono matters in the first few months of the program which has enabled me to get hands-on experience and develop my skillset outside my practice area.

The firm provides juniors with fantastic career development opportunities beyond the graduate program. Sparkes' culture is truly unparalleled, attracting exceptional people which makes working each day enjoyable. I have felt welcomed and valued from day one and feel very fortunate to have started my legal career in such a supportive, flexible and collaborative environment.

— Laura Worrad, Graduate (now Lawyer)
Looking to join us?
Graduate Opportunities at Sparke Helmore
We recruit graduates in all nine of Sparke Helmore's offices depending on business requirements. Where graduate positions become available they will be advertised through the 'Join Us' section on our Careers Page.
Sydney - Graduates
We understand that finding the right firm to start your career can be a daunting process which is why we want to work with you to find the best solution for you. We give you the opportunity to tell us what's important to you and for us to assist with helping you get to where you want to be.
Sparke Helmore understands that some graduates are passionate and committed to a career in one of our specific practice groups but others may not know where they would like to specialise at such an early stage of your career and for this reason our 2024 program will offer you the opportunity to tell us whether you would like to commence your career in a specific practice group or whether your preference is to rotate through different areas.
Key dates for 2024
Monday, 26 February – Applications for graduate positions open at 9:00am AEST.
Sunday, 7 April – Applications for graduate positions close at 11:59pm AEST.
Monday, 29 April – Interviews for graduate positions commence.
Monday, 17 June – Offers for graduate positions can be made
Wednesday, 19 June – Offers for graduate positions must be accepted or declined by 5:00pm AEST.