Shelagh Bannatyne
Q. What did you want to be when you grew up?
A. A fighter pilot – I decided against it when an enlightened British Air Force careers adviser informed me "females are not accepted into the air force as pilots. We fear their skirts may fall over their heads when flying upside down, preventing them from seeing."
Q. What didn't you expect at Sparke Helmore?
A. To still be here after 15 years.
Q. How would you describe the firm in one word?
A. Gallus
Q. What do you consider your greatest achievement?
A. Hiring, managing and nurturing an extremely talented, enthusiastic and knowledgeable Sydney finance and credit team.
Q. Which job would you never do?
A. Apparently, fighter pilot...
Q. What talent do you wish you had?
A. Green thumbs, I seem to kill every houseplant that makes its way into my possession.
Q. What exasperates you?
A. Getting to the fruit bowl too late.
Q. What is your motto?
A. I often quote words of wisdom written by the Monty Python team, but my favourite is "always look on the bright side of life".
Q. What do you most value in your colleagues?
A. Honesty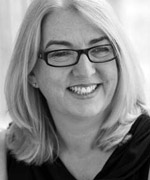 Position
National Billing & Credit Manager
Expertise
Finance
Office
Sydney