Erin Tomicic
Q. What did you want to be when you grew up? 
A. Janet Jackson's back up dancer
Q. What didn't you expect at Sparke Helmore?
A. The great friends I have made in the nine years I have been here – I started as a secretary, was promoted to be the National Workplace Group Coordinator, decided to move across to the office services team and became Brisbane Office Manager and recently returned part time after taking parental leave.
Q. How would you describe the firm in one word? 
A. Friendly
Q. What do you consider your greatest achievement?  
A. Having my beautiful daughter in 2013
Q. Which job would you never do? 
A. Sky diving instructor, high rise window cleaner  – anything to do with heights!
Q. What talent do you wish you had? 
A. That I could sing like Beyoncé
Q. What exasperates you? 
A. No manners
Q. What is your motto?
A. Life is nothing without love
Q. What do you most value in your colleagues? 
A. Loyalty, honesty and sense of humour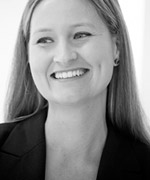 Position
Talent Acquisition Consultant (Graduates)
Expertise
Office
Canberra