---
Fair Work legislation amendments-extension of entitlement to family and domestic violence leave
08 November 2022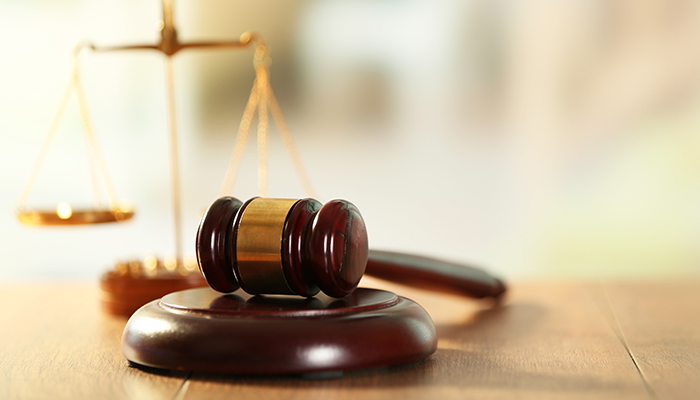 We would like to acknowledge the contribution of Holly Irwin to the preparation of this article.
Sparke Helmore will be bringing you specific commentary and practical analysis on the Fair Work legislation amendments over the next week.
Our second article in this series covers the amendments in the Fair Work Amendment (Paid Family and Domestic Violence Leave) Bill 2022 (the Bill), which have now become law. This Bill is an element of the broader legislative reforms to workplace laws being introduced by the Government.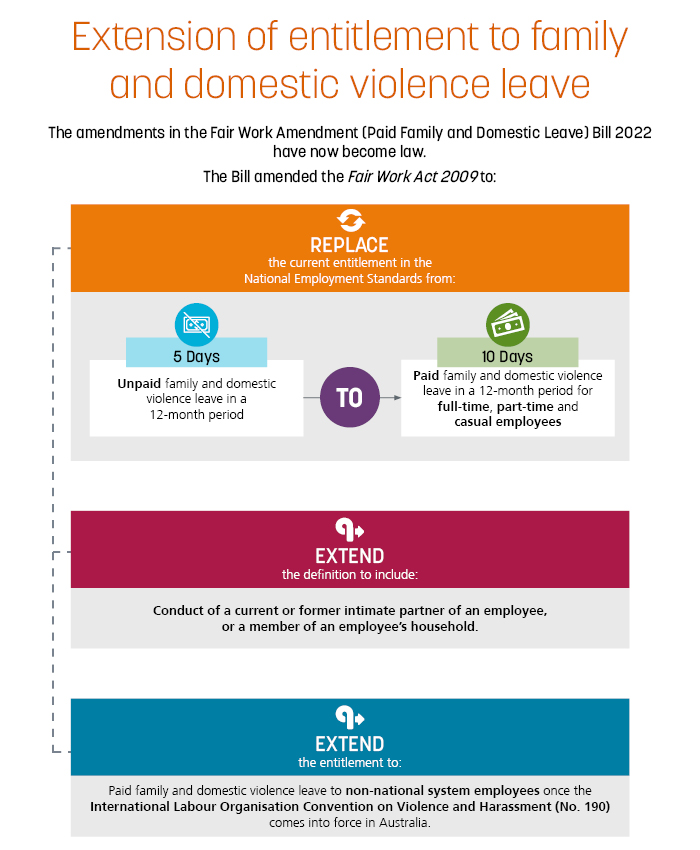 One of the Government's pre-election commitments was to introduce paid family and domestic violence leave.
The new provisions acknowledge that family and domestic violence is not merely a criminal justice or social issue, but an economic and a workplace issue with significant impacts on communities and workplaces.
Including the new provisions in the FW Act also acknowledges that many victims of family and domestic violence cannot escape violent situations without risking unemployment, financial hardship or homelessness. Access to paid family and domestic violence leave is intended to aid with financial security and help employees experiencing family and domestic violence to remain in work, maintain their financial security and access relevant services – all of which have knock on benefits for families, employers and the economy.
The provision of ten days' paid family and domestic violence leave also brings the NES entitlement into alignment with the current practices of many employers, who already provide paid family and domestic violence leave through enterprise agreements or workplace policies.
Commencement of new entitlement
The new provisions will apply from 1 February 2023 for most employers, to allow for payroll and other systems to be adjusted. Small businesses will have an extra six months until 1 August 2023 before the provisions apply. Paid family and domestic violence leave will start to accrue for existing employees from these dates.
As with the current entitlement to unpaid leave, the entitlement does not accumulate from year to year, with the entitlement refreshing after each 12 month period of employment.
Employees employed at the time the entitlement applies (either 1 February 2023 or 1 August 2023) will be able to access their full entitlement to paid leave from that date, with the entitlement resetting to the full 10 days from the anniversary of their commencement date after that.
Under transitional provisions, from 1 February 2023, employees of businesses that are not small businesses who are employed at that time would be entitled to 10 days of paid family and domestic violence leave, rather than having to wait until the anniversary of their start date to gain the entitlement. On the anniversary of their commencement (e.g. 29 June 2023), their entitlement will reset to 10 days' paid leave, as it will on the anniversary of their commencement date from that time onwards.
Employees of small business employers will gain the benefit of the leave from 1 August 2023, with their entitlement similarly resetting on the anniversary of their commencement date after that.
What has changed?
The amendments significantly increase the entitlement to family and domestic violence leave from the current entitlement to five days' unpaid leave to 10 days' paid family and domestic violence leave.
There are other important and noteworthy changes to the entitlement.
Previously, casual employees were entitled to access unpaid family and domestic violence leave, however, the new provisions now allow casual employees to access paid leave too. This is noteworthy, as casual employees are not typically eligible for paid leave under the NES, with entitlements to paid leave usually being covered by the casual loading.
Further, if an employee accesses their entitlement to paid leave, the employer must pay the entitlement at the employee's full rate of pay as if they were still at work. Under the NES, payments for annual leave and paid personal/carer's leave are paid at the employee's base rate of pay.
If a casual employee takes a period of leave, the employer must pay the employee at their full rate of pay they would have received, had they worked the hours in the period for which they were rostered.
Casual employees can also take paid family and domestic violence leave for time that does not include their rostered hours. However, the employer is not required to pay the employee in this situation. The intention is to protect casual employees who are not able to otherwise make themselves available for a shift because they need to deal with family and domestic violence from any adverse action by their employer as a result of their unavailability.
What is the definition of family and domestic violence under the FW Act?
These amendments will define family and domestic violence as: violent, threatening or other abusive behaviour by a close relative of an employee, a member of an employee's household, or a current or former intimate partner of an employee that seeks to coerce or control the employee; and causes the employee harm or to be fearful.
Employees may access paid family and domestic violence leave if the employee is experiencing family and domestic violence; or if the employee needs to deal with the impact of the family and domestic violence; and if it is impractical for the employee to manage this outside the employee's work hours.
Examples of actions by an employee in these situations could include arranging for their safety or that of a close relative (including relocation), attending court hearings, accessing police services, attending counselling and attending appointments with medical, financial or legal professionals.
What do the amendments mean for employers?
Employers will need to be ready for requests for paid family and domestic violence leave from 1 February 2023 (or from 1 August 2023 for small business employers).
Employers must comply with the new requirements and those that do not will risk court proceedings and the imposition of a civil penalty.
Employers can ask for evidence of the need for this leave, just as they can for most other forms of leave under the NES. However, this is not essential, and employers may benefit from updating or enacting leave management policies which:
guide managers as to when evidence may be required
advise what types of evidence (if any) are reasonable to request, and
acknowledge requests for evidence should be considered on a case by case basis. There will be some circumstances in which employees require this leave but cannot provide immediate evidence, or where they may require leave to be taken on short notice without being able to provide evidence in advance.
Due to the sensitive nature of domestic and family violence situations, training for managers handling these leave requests may be beneficial. Training can:
assist managers to treat employees who request paid family and domestic violence leave with care and sensitivity
provide managers with the right approaches around how to support employees, including access to adequate support services
remind employers of their duty of care in regard to employee safety, as they may now be aware that their employee is not in a safe environment. This may extend to preventing those employees from being made to work from home, as the office may provide a safer workspace, and
reiterate support systems in place for managers, should they be exposed to confronting or distressing information or situations.
Employers must remember that under the FW Act they have to take steps to ensure information concerning any application for family and domestic violence leave or evidence for it from an employee is treated confidentially, as far as it is reasonably practicable to do so. Employers are not prevented from disclosing information if required by law, or if it is necessary to protect the life, health or safety of the employee or another person.
But they must be aware of the sensitivity of this information and the potential risk to employees if such information does not remain confidential. Employers may need to update or enact policies to address confidentiality concerns, including how this type of leave appears on a payslip (employees may not want this made obvious), who is required to know about the leave in order to process it through payroll, and compliance with mandatory reporting requirements.
Whilst the new provisions apply to national system employers only at this stage, the Government has implemented steps to ratify an international convention which would make paid family and domestic violence leave applicable to employees of non-national system employers too.