Sports & Entertainment Law
What we do
Broadcasting rights, public relations, media and communications—athlete and entertainer rights (including image rights), marketing, defamation, media and crisis management, merchandising, advertising and sponsorships, publishing, licensing and distribution deals.
Corporate and commercial arrangements—joint venture and shareholder agreements, purchase and divestment of assets,  directors' duties and governance, integrity matters, gambling and match-fixing, charity endorsements, restrictive trade practices and restraint of trade issues, and litigation.
Employment and workplace relations—player, ambassador and sponsorship contracts, player welfare and playing conditions, dispute resolution and tribunal appearances (Court of Arbitration), management, confidentiality and non-disclosure agreements, and visa and immigration clearance.
Intellectual property and technology—brand licensing and protection, trade mark registrations, patents, trade secrets, copyright advice and enforcement,  sponsorships, privacy, competition, fair trading, anti-trust, cybersquatting, digital and new technologies, e-Commerce, and website terms and conditions.
Property and event management—venue hire and management, infrastructure and property developments, leasing and club facilities, and negotiations with the International Olympic Committee and other international bodies in respect of sanctioned international events.
Safety and risk—work health and safety, bullying, harassment and discrimination, Australian Sports Anti-Doping Authority and World Anti-Doping Agency regulatory work, professional indemnity and personal injury issues, negligence, risk management and specialty injury, income protection, workers' compensation, and public liability at venues and clubs.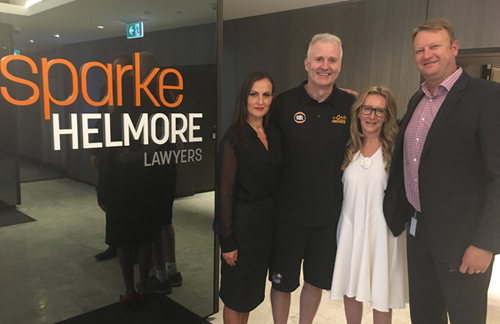 Above: Head Coach of Sydney Kings, Andrew Gaze (second from left),  and Sports & Entertainment Law team.