---
Sparke's Soirees puts on another good shoe...show!
29-August-2019
Following the success of the July event at Harlom's store in Paddington, Sparke Helmore's Corporate & Commercial National Practice Group Leader, Shannon Platt, together with senior women from the Group, hosted the latest instalment of "Sparke's Soirees" last night, this time at the Sydney home of legendary shoe designer, Christian Louboutin.
Another powerhouse group of women gathered and were treated to Simon Johnston caviar, Pommeroy Champagne and La Prairie hand massages—naturally, complemented by lots of fun and laughter.
The feedback is testament to the unique nature of the events, with one attendee saying: "I wanted to take the opportunity to commend you and the other members of your team on the "Sparkes Soiree" concept and on its execution. I've spent many years senior in-house roles, executive roles and Board roles and therefore been the recipient of many invitations to events that were pretty much a chore for all concerned – the Soirees are the polar opposite of that. Most significantly, the quality, consistency and frequency of the events enables relationships to be built in an organic way over time. In my view this is the only effective way to properly nurture and develop business relationships – we need to know and trust the people first, and these events facilitate that process. It's a fantastic networking opportunity for all attendees, and a terrific way to get to know you and your team".
But it wasn't all pumps and pomp! Luxtralia (the Australian arm of Louboutin) Managing Director Geraldine Dielenberg provided guests with insight into Christian Louboutin's iconic stores. Designed to feel like home for Christian, the foyer is finished with his signature detailed niches; the heart of the home hosted hand-painted wallpaper to capture his passion for nature and landscape; the furnishings and fabrics are from his travels, accompanied by intricate iron work to offer that quintessential Parisian feel of the Eiffel Tower. The third "room" (the man's hideaway) features his long-beloved lemurs—animals he's adored since childhood and has vowed to have in every house he ever owned.
The shoes were, of course, nothing short of magnificent. The latest collection, "Palace Nights", pays homage to Paris' Palace night club. With only 15 made in the whole world, it was a pair of gold, laced stilettos that stole the show.
Another attendee also said: "We had such a lovely night and it's the first time I have stayed so long they almost had to turn the lights off to get us to leave. It was the most fab event, the caviar station was amazing and my hands are still feeling the La Prairie love. Really appreciate the invitation, such fun!"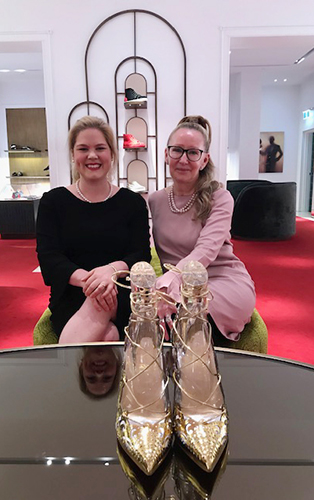 Corporate & Commercial Partner Sally Weatherstone and National Practice Group Leader Shannon Platt admiring the collection's signature and star of the evening.

---