---
ACCC releases greenwashing guidance for businesses
19 July 2023
With a global shift towards environmentalism, environmental and sustainability claims made by businesses increasingly influence consumer decisions about products and services. Correspondingly, many businesses make claims about the environmental benefits of their products and services to differentiate themselves from their competitors.
"Greenwashing" – the use of false or misleading statements relating to the environmental benefits of products or services or the environmental credentials of a business – is firmly within the sights of the Australian Competition and Consumer Commission (ACCC).
Last week, the ACCC issued draft guidance outlining eight good practice principles to assist businesses in complying with their obligations under the Australian Consumer Law (Schedule 2 of Competition and Consumer Act 2010 (Cth) (ACL) in making environmental claims.
In the ACCC's guidance, an environmental claim is defined as any representation made by a business in relation to its environmental impact, including claims that give the impression that the business or its products or services:
have a neutral or positive impact on the environment
are less harmful for the environment than alternatives, or
have specific environmental benefits.
Environmental claims may appear in the form of:
product packaging or labelling
point-of-sale materials
marketing materials
advertising materials (including via online or social media platforms), and
corporate reporting materials.
The ACCC has identified greenwashing as a matter of public concern, undertaking an internet sweep in late 2022 closely examining the environmental and sustainability claims made in relation to products and services across numerous industries. Of the 247 businesses considered by the ACCC in its sweep, 57% raised concerns about greenwashing. It was found that several businesses were either making vague and unqualified claims, exaggerating environmental benefits, or using third-party certification schemes in misleading and confusing ways.
The ACL prohibits conduct that either is misleading or deceptive or is likely to mislead or deceive, and false or misleading representations about goods or services. Contraventions of these prohibitions can carry heavy penalties, and so it is crucial for businesses to understand the risks associated with greenwashing and take appropriate action to avoid contravening the ACL (for further insight into key considerations for directors see The rise of ESG considerations for directors.
Summary of ACCC Guidance Principles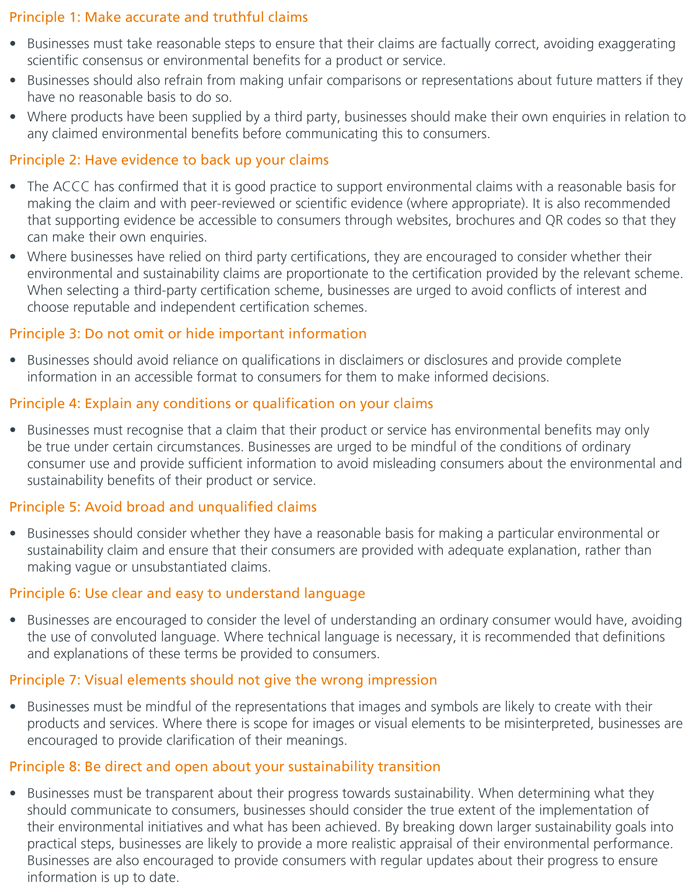 Submissions and feedback by consumers, consumer advocates, businesses, and industry associations on the ACCC's Draft Guidance are due to ACCC by 15 September 2023.