Contacts
Hannah Rose
Senior Associate & National CSR Manager
t:
+61 2 9373 3501
+61 2 9373 3501
m:
+61 424 504 102
+61 424 504 102
o:
Sydney


Community
Supporting our community
Sparke Helmore supports its community through staff participation in community and philanthropic activities, such as volunteering, mentoring, resource-sharing and fundraising.
The firm's community program includes a matched-giving program, a Christmas donation, workplace giving, community service leave and local office-endorsed community activities. From 2014, it also includes the Sparke Helmore Community Grant.
The Sparke Helmore Community Grant
Each year, the firm provides a community grant to a Sparke Helmore employee, or group of employees, to support a specific community activity. The grant consists of up to $10,000 in funds to run the activity and up to a total of 10 days' leave, which can be used by one individual or shared across the team participating in the activity. This activity can be anything, but it need to address a tangible need, have a positive impact and provide a practical benefit to the community.
Our matched-giving program
We asked the firm's partners and staff to vote on the activities and not-for-profit organisations they wanted to support as part of the firm's national matched-giving program. With this program, donations raised by staff are matched by the firm.
In 2013-2014, these are:
Dress for Success (collecting business clothes to give people a good start in the workforce)
Red Cross Calling – Red Cross Australia
Million Paws Walk - RSPCA
Daffodil Day – Cancer Council
Dementia Awareness Week – Alzheimer's Australia
Movember – men's health
Christmas donation
Each year, the firm donates money to a chosen charity. In 2014, we funded Life Without Barriers to organise Christmas parties for about 600 children who are in care, or are unaccompanied asylum seekers.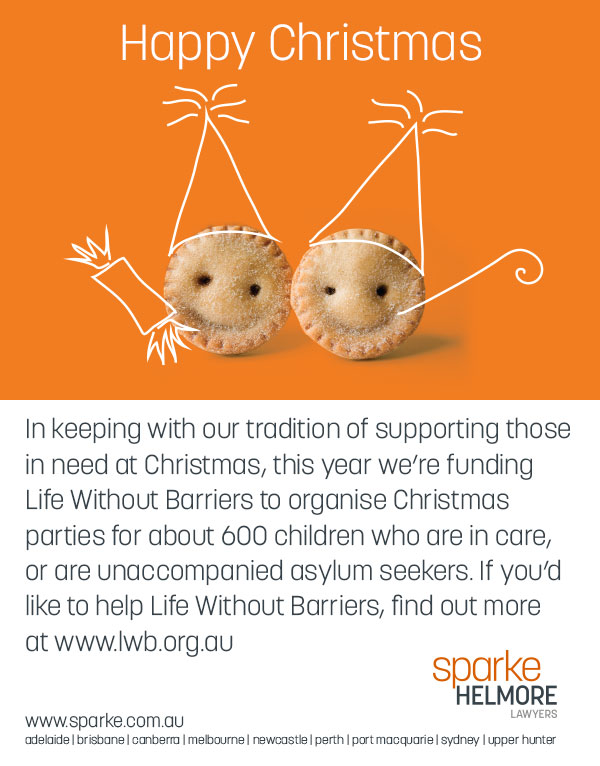 Workplace giving
Sparke Helmore's workplace giving initiative gives staff a simple way to regularly donate to charities of choice as a salary sacrifice through automated payroll deduction.
Community service leave
The firm has a Community Service Leave Policy that supports employees to take paid leave for eligible community service activities, including jury service and voluntary emergency management activities.
Lucy mentoring program
Lucy is an innovative leadership program with a focus on female undergraduates studying law, business, finance, economics and accounting at the Universities of Sydney, Western Sydney and Newcastle.
The program aims to inspire, motivate and educate women about the opportunities available for employment and leadership in the private and public sectors. This is achieved by establishing relationships between students and mentors who are working professionals.
Between March and April each year we ask partners, special counsel, consultants and senior associates in Sydney and Newcastle if they would like to be a volunteer mentor in the program. Mentors are selected on the basis of life and work experience and their willingness to share their time, skills and workplace with a student. Students from the second year of their studies and above are recruited for the program and are matched as closely as possible with a mentor's area of expertise.
Read more about the Lucy Mentoring Program. 
Willing & Able Mentoring program
Willing & Able Mentoring (WAM) is a practical mentoring program designed specifically for tertiary students with disabilities. 
The program provides students with the opportunity to develop a mentoring relationship with an experienced professional from their chosen industry or discipline, to gain a greater understanding of what to expect as they begin their careers.
WAM provides an excellent opportunity for students with disabilities to meet people who have successfully overcome professional career hurdles and who can provide advice and support to best prepare them for the transition from education to employment. It is also a rewarding experience for mentors, who develop a greater understanding of some of the additional barriers faced by people with disability when embarking on the beginning of their careers.
Sparke Helmore's involvement in the program is through the Australian Network on Disability. See their website for more information. www.and.org.au
Other activities
Many of our partners and staff are actively involved in a range of community organisations, from the grass roots level to the boardroom.
We also hold many activities in our nine offices in support of local community organisations.