History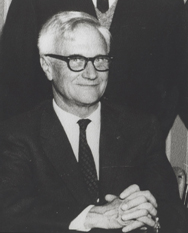 In 1882, William Sparke was admitted as a solicitor in Newcastle. Within a week, he'd hung out his shingle in Hunter Street and began his 65 year career. Over the years, William represented miners and mining companies, local, national and international shipping companies and municipalities (in the days when most Newcastle suburbs had their own councils).
In 1918, William's young articled clerk, Basil Helmore (pictured), rejoined the firm after spending two years at war. He was admitted as a solicitor two years later and in 1922, the firm became Sparke and Helmore.
In 1949 William and Basil took on another partner, Peter Withycombe. He was admitted in 1939 and, after service in World War II, returned to the firm in 1946. The firm became known as Sparke, Helmore & Withycombe in 1950.
The firm opened the Sydney office in 1962 because it was a condition of a client retainer.
In the 1980s, the firm's reputation in statutory classes insurance became a platform to expand into insurance litigation areas, and from there into some specialised commercial and government work.

In the 1990s, the firm expanded at a significant annual rate in terms of office locations, revenue and staff numbers. Between 1992 and 2001, the firm more than quadrupled in size and in 2012/13 we expanded our corporate offering and refreshed our vision, strategy and brand.

The Melbourne office opened in 1992, followed by Canberra in 1996, Brisbane in 1999, Muswellbrook in 2000, Adelaide in 2001, Perth in 2002 and Port Macquarie in 2014. The Port Macquarie office was acquired by Mark Stocks Lawyers on 1 July 2016. In 2017, we merged with Perth-based insurance firm Jarman McKenna, bringing in five new partners and 52 staff in total, to provide an even greater depth of insurance expertise for our clients. Our Darwin office opened in 2018.