Roger Sands
Q. What did you want to be when you grew up?
A. A foreign affairs diplomat
Q. What didn't you expect at Sparke Helmore?
A. An exceptional willingness to respond to change.
Q. How would you describe the firm in one word?
A. Responsive.
Q. What do you consider your greatest achievement?
A. Having a son, who I am so proud of.
Q. Which job would you never do?
A. I would very much struggle being a slaughterman.
Q. What talent do you wish you had?
A. A world class songwriter, singer and guitar player.
Q. What exasperates you?
A. Unjust hate or aggression towards a different group of people—especially any form of racism.
Q. What is your motto?
A. Lead a balanced life.
Q. What do you most value in your colleagues?
A. Integrity, collaboration, support, understanding, knowledge, skill, a sense of humour and being down to earth.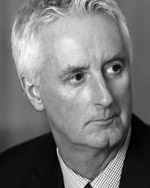 Position
Consultant
Expertise
Office
Perth