James Clohesy
Q. What did you want to be when you grew up?
A. A vet
Q. What didn't you expect at Sparke Helmore?
A. The level of interaction and engagement between senior and junior lawyers
Q. How would you describe the firm in one word?
A. Responsive
Q. What do you consider your greatest achievement?
A. Running a half marathon
Q. Which job would you never do?
A. Being a shearer 
Q. What talent do you wish you had?
A. Perfect aim—I could be great at so many sports
Q. What exasperates you?
A. People wasting time
Q. What is your motto?
A. Give it a go
Q. What do you most value in your colleagues?
A. Approachability and truthfulness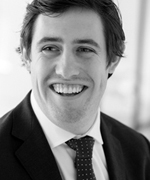 Position
Special Counsel
Expertise
Contract Works ISR and Agricultural Risk Liability Professional Indemnity
Office
Sydney