Hugo Evans
Q. What did you want to be when you grew up?
A. Pilot
Q. What didn't you expect at Sparke Helmore?
A. The diversity of systems, tasks and projects 
Q. How would you describe the firm in one word?
A. Pragmatic
Q. What do you consider your greatest achievement?
A. Enjoying life
Q. Which job would you never do?
A. Circus clown
Q. What talent do you wish you had?
A. A master of welding/metal fabrication (still learning)
Q. What exasperates you?
A. Not much
Q. What is your motto?
A. Crash or crash through
Q. What do you most value in your colleagues?
A. Energy, enthusiasm, sense of humour and work ethic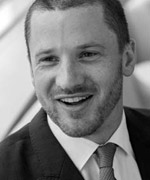 Position
IT Platforms and Security Manager
Expertise
Information Technology
Office
Sydney