---
Workplace COVID-19 weekly wrap-up on 9 April 2020
09 April 2020
This week we have seen the Government's extraordinary JobKeeper arrangements become law, a raft of associated changes to the Fair Work Act passed after unprecedented cooperation between political parties, employer groups and unions, and the Fair Work Commission has also confirmed proposed changes to 99 modern awards. From a WHS perspective, we are continuing to assist clients responding to challenges never seen before.
Although laws required for the JobKeeper payment have now been passed, the eligibility requirements will be outlined in legislative rules to be released in the coming week. We will provide an update on this next week but have included information on the arrangements now in place in the meantime.
These issues are covered in detail below. For the sections with infographics, please click on the image to read more.
Changes to the Fair Work Act in response to COVID-19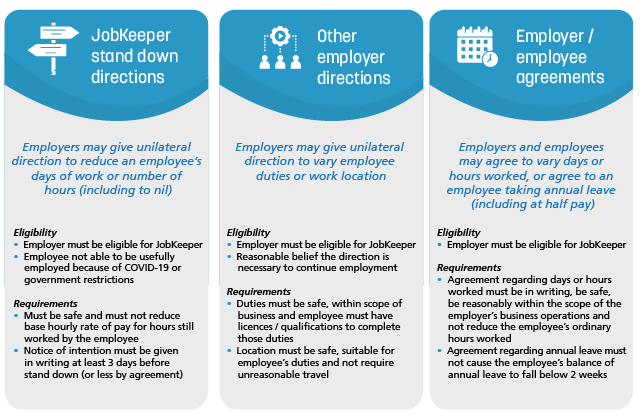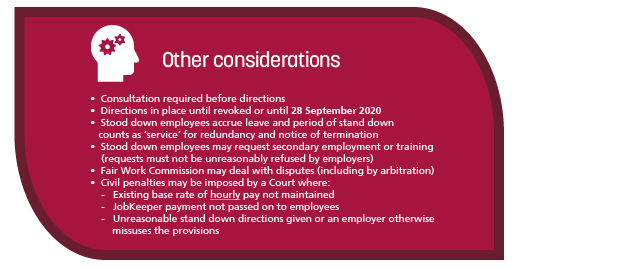 COVID-19: Changes to 99 modern awards
Yesterday the Fair Work Commission (FWC) confirmed its proposed variations to modern awards.
A list of the 99 impacted modern awards can be found here. The FWC will update each modern award over the coming days to include Schedule X, which will set out the variations. Schedule X operates from 8 April 2020 until 30 June 2020 but may be extended.
The FWC indicated that these changes were part of 'phase 1'. It is foreseeable that these changes may extend to other modern awards in due course or that the FWC may propose further variations to these 99 modern awards and others.
A summary of the variations are: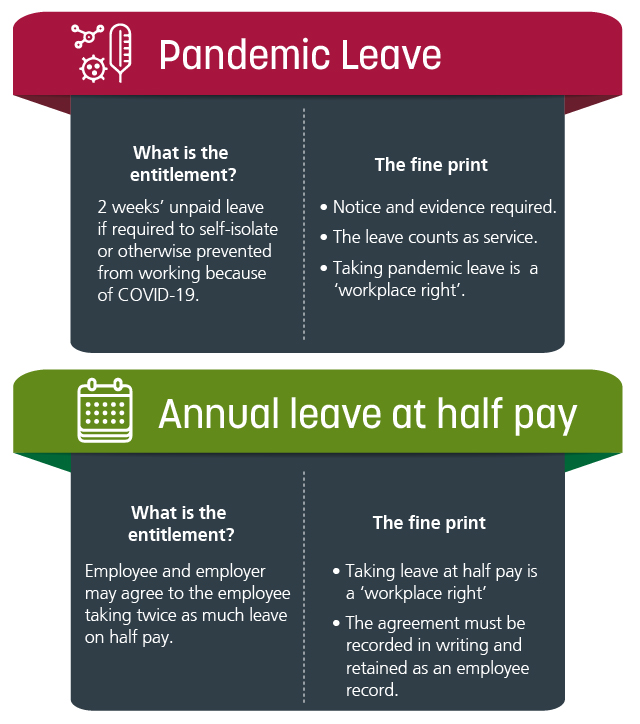 COVID-19 and WHS – The common issues we are seeing
Over the past few weeks we have been assisting clients responding to the COVID-19 pandemic, including those dealing with the substantial challenges in managing work health and safety in the current environment.
Below, we outline some of the common WHS issues confronting duty holders during the pandemic and some suggestions for working through those issues.
1. Enforcement approach and regulatory response
COVID-19 has created an exceptional set of circumstances that is having a significant impact on duty holders, and their ability to comply with work, health and safety (WHS) laws. Government orders for self-isolation and social distancing are creating additional pressures.
Recognising these challenges, Safe Work Australia released a Statement of Regulatory Intent on 1 April 2020 setting out the enforcement approach to be adopted by all Australian WHS regulators (except Victoria) during the pandemic. The key themes are: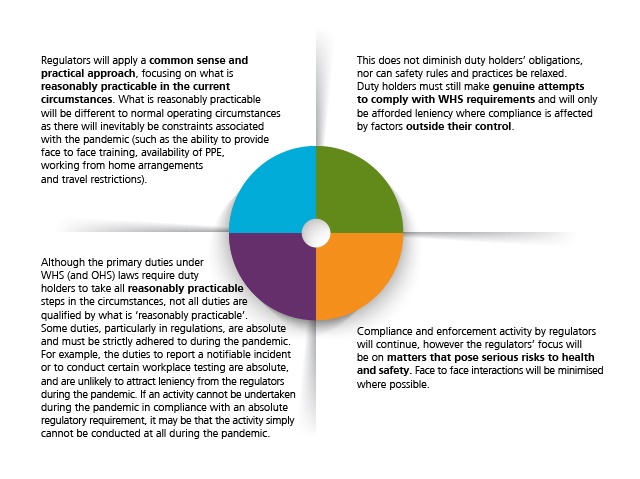 WorkSafe Victoria has not provided an update on its approach to its enforcement activity during the pandemic, other than confirming that it is continuing workplace inspections.
2. Training, licences and accreditations
One issue arising from the Government's COVID-19 restrictions is that worker accreditations expiring during the period of the restrictions or an inability for workers to access training required for the performance of certain roles at work (e.g. accredited first aid training).
Despite the pandemic, duty holders must still take all reasonably practicable steps to renew, obtain and keep current any relevant training, licences, permits and accreditations. However, some flexibility is required given the unprecedented pressures and restrictions currently impacting workplaces. The need for this flexibility is recognised by Safe Work Australia in its Statement of Regulatory Intent discussed above.
In circumstances where, because of COVID-19, workers cannot renew, obtain or keep current any training or accreditations, duty holders should: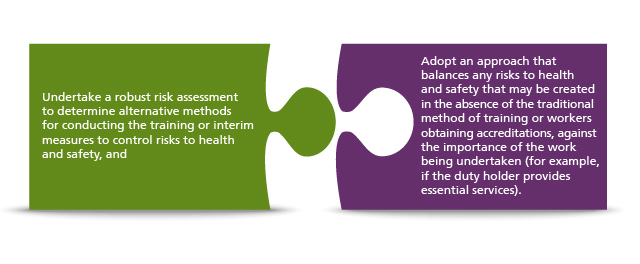 However, duty holders will not be excused from ensuring workers' licences (e.g. high-risk work licences) or permits required by WHS laws are obtained and kept current during the pandemic. For example, we understand WHS regulators are still processing high-risk work licence renewals in most states and territories.
3. Working from home
With many workers transitioning to working from home arrangements, employers must consider how they will continue to comply with their WHS obligations in the new environment. The duties under WHS laws still apply to workers when they are working somewhere other than their usual workplace, such as their home. The key difference for duty holders is the reduced level of direct supervision and oversight over workers when conducting their work. This will inevitably lead to a different risk profile, both from a WHS perspective and in relation to many other issues, such as confidentiality, privacy and data security.
From the WHS perspective, employers should consider, as a minimum:
Safe Work Australia provides some further guidance in their website.
4. Mental health, social distancing and wellbeing
Many workers are now working from home and Australians are under increased stress due to the COVID-19 pandemic. Although unprecedented, WHS and employment laws still apply. From a WHS perspective, this requires employers to take all reasonably practicable steps to provide a safe workplace for workers and other persons, including by eliminating or minimising, so far as is reasonably practicable, risks to psychological health.
We provided practical suggestions for employers to consider in managing mental health and wellbeing in our update last week here. Safe Work Australia also provides some helpful guidance.
5. Incident notification
The requirements for incident notification of COVID-19 infections to WHS regulators are different in each jurisdiction. However, certain COVID-19 infections will be notifiable to WHS regulators, even where the local health authority has already been notified.
Visit Safe Work Australia website for more details.
6. Responding to a suspected or confirmed COVID-19 case at work
Many duty holders have unfortunately already had to deal with a situation where a worker has become unwell and later tested positive to COVID-19.
The appropriate steps to follow, including depending on whether the worker remains at the workplace or has left the workplace, have been set out in a helpful fact sheet produced by Safe Work Australia.