---
Sparke Helmore's Shannon Platt wins Women in Law Awards' Partner of the Year
28-October-2016
Sparke Helmore Lawyers is proud to announce that last night Corporate & Commercial National Group Leader Shannon Platt was named Partner of the Year at the 2016 Lawyers Weekly Women in Law Awards. The awards ceremony, held at the Sofitel Melbourne on Collins, was attended by professionals from the legal industry.
"Congratulations to Shannon on being recognised by her peers and the wider legal profession for her outstanding contribution as a leading female practitioner in Australia. Shannon's commitment to her clients and the Sparke Helmore family is second to none and she has shown exceptional leadership as our Corporate & Commercial Group Leader, a member of our Executive Committee and National Head of IPT," said Phillip Salem, National Managing Partner. "We're dedicated to creating a workplace that respects, includes and values diversity, recognises and nurtures the contributions of each individual, and fosters a work environment that maximises the potential of all our people—in her leadership roles, Shannon has and continues to play a significant part in advancing that cause at Sparke Helmore."
"It was a great honour to be included in the list of outstanding finalists. To win among such company makes me very proud of the support that my partners at Sparke Helmore have given me and continue to give other female practitioners. We need to say "yes" more often and when we succeed, we need to sing from the rafters and continue making the most of the opportunities presented to us.
The Awards were attended by a group of highly energised, motivated and inspiring women from the legal profession—students, academia, members of the Bar and the judiciary, in-house counsel and private practitioners. Being surrounded by such a high calibre of individuals highlights to me the great female talent we have in the Australian legal profession and the need to encourage and support those women to be successful."
Shannon and her team have had a successful year. She was named Intellectual Property Partner of the Year in Lawyers Weekly's Partner of the Year Awards and her team were shortlisted for the Asia IP Awards and the Lawyers Weekly Australian Law Awards.
The Women in Law Awards acknowledge excellence in the legal industry and recognise women who have challenged, influenced or changed legal practice in Australia. Nominees for Partner of the Year were judged on outstanding work in their practice area, their contribution to the growth and performance of their team and firm, and their leadership in shaping the culture and strategy of their practice group during the 2016 financial year.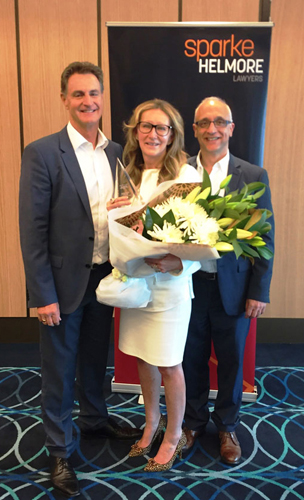 Above (from left to right): Chairman Mark Hickey, Partner Shannon Platt and National Managing Partner Phillip Salem.

---