---
Sparke Helmore hosts launch of online property co-ownership platform, Kohab
06-March-2018
Sparke Helmore Lawyers is pleased to have advised on and hosted the launch event of digital property co-ownership platform, Kohab.
The event was held in Sparke Helmore's Sydney office yesterday, where almost 100 people from the property and real estate sectors gathered, including Parliamentary Secretary for Finance, Services and Property Alister Henskens MP who spoke at the event.
The unique platform looks to tackle the growing issue of housing affordability in Australia by providing an online marketplace that connects buyers that want to co-invest in property.
Through Kohab, buyers can use a simple process to help them formalise their purchase via a co-ownership agreement that was drafted by Sparke Helmore. The platform also offers access to experts in the market who can advise on borrowing and insurance.
Sparke Helmore Partner David Reid has been the principal lawyer advising on Kohab along with a team from our Corporate & Commercial Group. He took part in a panel discussion during the launch event and spoke about the legal ramifications of the platform, the co-ownership agreement and the way it deals with vagaries that may arise, such as defaults or when a party may want to sell their share of the property.
"We're proud to have been involved in such an innovative solution to a very prevalent issue for many Australians—housing affordability," said David. "This unique platform will make it easier for individuals to co-own property and help them dot the I's and cross the T's when entering into this type of transaction."
For more information on Kohab visit www.kohab.com.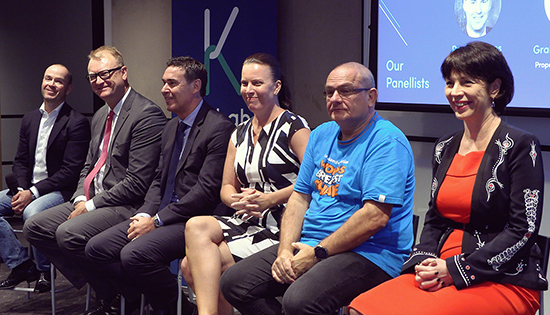 Above: The Kohab launch event panel, featuring Partner David Reid (second from left).

---