---
ICEBERG premiere a step toward making violence stop
20-November-2015
More than 200 people attended the first public screening of the ground-breaking ICEBERG documentary at the Dendy Opera Quays in Sydney last night.  
ICEBERG follows Kirrily Dear, founder of Run Against Violence, as she ran 860 km across regional NSW to raise funds and awareness about domestic violence. "Regional and remote communities experience up to 11 times more incidences of domestic assault per capita than in metropolitan areas," says Kirrily. "By taking on this challenge I wanted to encourage open discussion about domestic violence and see what we can do to change this silent epidemic. In passing through these communities and seeing people striking up conversations, I became more and more determined to make it to the finish line knowing that each step I took was toward making the violence end."
By following Kirrily's journey, ICEBERG gives voice to the widespread impact of domestic violence, not just on the families involved but on the wider community and highlights how we can all take steps toward making a positive change:
"Violence is a culturally-derived problem...and it is up to us to change that culture. We do that by taking steps together—by asking more questions, by being a bit more curious about what is going on with the people in your community, by reading more and understanding more, and by reaching in to help families earlier who are struggling."
After ICEBERG was screened, a Q & A panel discussion was held with Jerry Retford (a former user of violence), Dr Maria Nittis (Department Head of the Forensic Medical Units at Nepean, Blacktown and Mount Druitt Hospitals), Inspector Sean McDermott (NSW Police Force) and Max Gardner (Tamworth High School White Ribbon school program participant).
The panel discussion looked at family violence from a range of perspectives. Inspector McDermott's response to a question about warning signs was particularly gripping, he said "There are a lot of warning signs for women to heed such as their partners exercising extreme control, social isolation from family and friends, and breaking down their self-esteem and the like—something that makes them feel uncomfortable," he went on to say "Police should get involved where there are threats — to themselves as well as threats to pets and children. Things like stalking, intimidation, monitoring social media, harassment and, of course, violence."
Sparke Helmore helped fund the film as part of its Six Degrees initiative and hosted the premiere because the documentary is an important educational tool for organisations and schools to use.
"We are delighted to have supported the ICEBERG premiere as it covers ground-breaking territory in profiling the widespread impact of domestic and family violence, not just on those involved but the wider community. This documentary brings domestic violence into the sphere of public discussion, opening up greater opportunities to work together in addressing the issue and to take action" said Kristina Miller, Patron of Six Degrees and Sparke Helmore Partner.
If you or someone you know is impacted by sexual assault, domestic or family violence, call 1800RESPECT on 1800 737 732 or visit 1800RESPECT.org.au. In an emergency, call 000. For men seeking pathways to stop using violent and controlling behaviour please contact the Men's Referral Service on 1300 766 491 or visit mrs.org.au.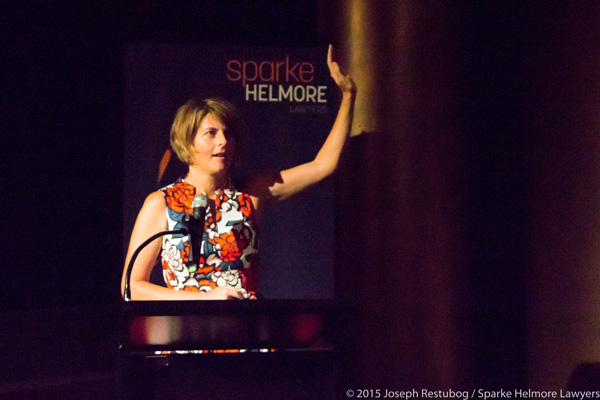 Above: Kirrily speaking at the premiere.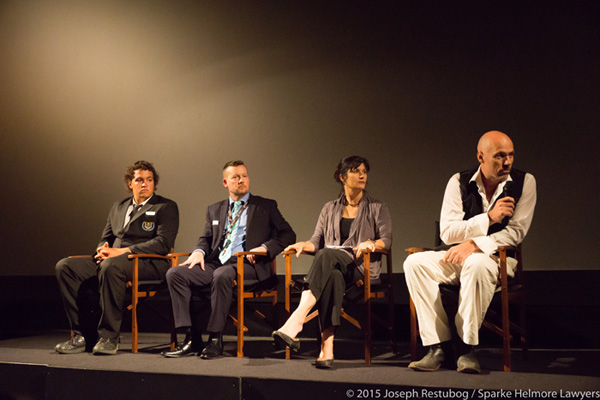 Above: Q & A panel discussion with Max Gardner, Inspector Sean McDermott, Dr Maria Nittis and Jerry Retford (from left to right).
Media contacts:
Iceberg
Kirrily Dear, founder of Run Against Violence
t: +61 425 285 293 e: ravproject15@gmail.com
Sparke Helmore Lawyers
Kristy Shardlow, Senior Communications Executive
t: +61 2 9373 3506 | e: kristy.shardlow@sparke.com.au
Note
The Q & A panel members were:
Jerry Retford
Former user of violence who is now an advocate for "Taking Responsibility", a behavioural change program conducted by Relationships Australia.
Dr Maria Nittis
Department Head of the Forensic Medical Units at Nepean, Blacktown and Mount Druitt Hospitals. Believed to be the only health department that provides forensic medical and nursing care to victims of domestic violence.
Inspector Sean McDermott
Inspector McDermott is the Manager of the NSW Police Domestic and Family Violence Team.
Max Gardner
Recent graduate of the White Ribbon schools program conducted at Tamworth High School.

---