---
A big week for IWD events: David Morrison AO, Iceberg and a Gender Equity Award
11-March-2016
Sparke Helmore hosted multiple events for staff and clients as part of its International Women's Day celebration. In Sydney, David Morrison, the 2016 Australian of the Year and Chair of the Diversity Council of Australia, addressed more than 150 clients and staff and shared his very personal story of how and why he became a champion for gender equality and equality more broadly. The audience was held spellbound as he spoke of what has driven him to take up the equality cause and why he plans on maintaining his commitment to it for the rest of his life.
David talked about the three great lessons in leadership he learnt during his time in the Army; good leaders understand humanity, take the time to see their professional world in the context of the broader world, and personalise the big problems and do something about them. As Chief of Army from 2011 to 2015, he was confronted early on with one such big issue—why for the past century did women make up less than 10% of the Army?
David realised that a significant factor was the Army's culture of exclusivity and set his sights on finding the language that would make its culture inclusive. He discovered this language of change after visiting soldiers serving in Afghanistan; "more diverse, more inclusive workforces are more capable...It's about encouraging people to offer their views that would be different from the status quo's, to disrupt complacent thinking, and to try and solve tomorrow's problems with tomorrow's solutions". After David's inspiring speech, Sparke Helmore's Chairman, Mark Hickey, concluded the event by pledging to work toward increasing parity of female partners in the firm.
Every Sparke Helmore office had the privilege of meeting Kirrily Dear, the founder of Run Against Violence, and watching ICEBERG, a ground-breaking documentary that follows her 860 km run across regional NSW to raise funds and awareness about family violence and how this affects the family involved and the wider community. A Q&A session with Kirrily was held after the screening.
"Regional and remote communities experience up to 11 times more incidences of domestic assault per capita than in metropolitan areas," says Kirrily. "By taking on this challenge I wanted to encourage open discussion about domestic violence and see what we can do to change this silent epidemic. In passing through these communities and seeing people striking up conversations, I became more and more determined to make it to the finish line knowing that each step I took was toward making the violence end."
Sparke Helmore helped fund ICEBERG and hosted its premiere in November 2015 at the Dendy Opera Quays when more than 200 clients and supporters saw the documentary and met some of the impressive young men who feature in it.
ICEBERG is a documentary every Australian should see and we're thrilled that the ABC will be showing it, and an accompanying story about it, on Compass at 6.30 pm on Sunday 3 April.
Sparke Helmore hosted many clients at the IWD breakfast organised by WHO and was delighted to receive two awards: Gender Equity Champions Award and Workplace Flexibility Champions Award at the 2016 Hunter Diversity Awards. The Awards are an initiative of the Equal Futures Project, which is a grassroots organisation made up of Hunter business leaders raising awareness of, and funds for, gender equity in the region.
These IWD activities are part of Sparke Helmore's Six Degrees women's network initiative, which is designed to encourage, motivate and support women.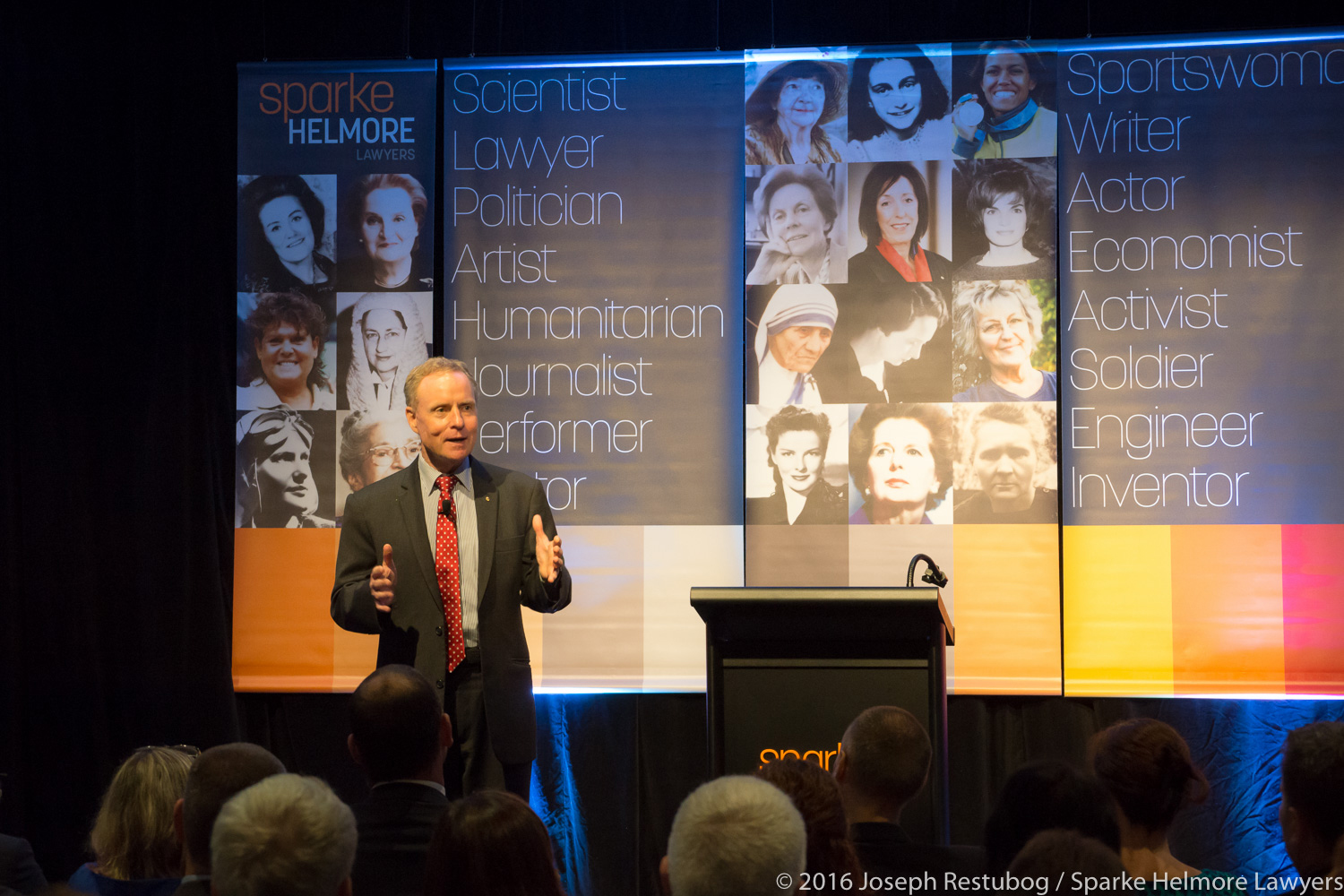 Above: David Morrison speaking at Sparke Helmore's Sydney IWD event.

---