Australian Growth Company Awards

About the awards
Successfully launched in 2012, the Australian Growth Company Awards celebrate excellence in the mid-market.  They recognise companies that demonstrate high rates of growth, as well as innovation, integrity, contribution to community and sustainable growth.
 
2013 Award Categories and Criteria
There are four award categories:
Growth Company of the Year
Growth Company CEO of the Year
Exit of the Year
Growth Company to Watch.
Award nominees need to have been in business for more than two years and be an Australian Company, citizen or resident.
Find out more about each of the award categories and criteria. 
 
Nomination process
You will be required to complete a nomination form for your category. Download a nomination form here.
Deciding on the winners
An independent judging panel, comprising leaders in their fields from the award partners, will assess the nomination forms and then interview shortlist nominees to make their decision. The judges will be rewarding nominees who meet the eligibility criteria, and display outstanding innovation, sustainability and integrity. The award ceremony, to be held at the Westin Hotel on 24 October 2013, marks the culmination of the 2013 Australian Growth Company Awards program. Category winners will be announced and celebrated by leading business people and entrepreneurs around the country.
 
Award partners
We thank each of the inaugural award partners for their support in bringing these awards to life.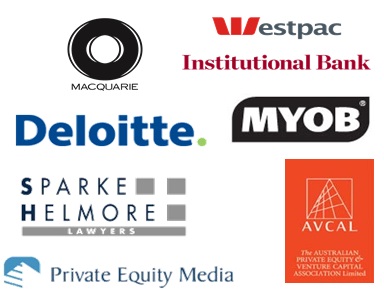 2012 Winners and finalists
The 2012 Australian Growth Company Award winners and finalists were drawn from a diverse range of industries. Read their inspiring stories here.
 
Media enquiries
Contact:
Kristy Shardlow
p: +61 2 9373 3506
e: kristy.shardlow@sparke.com.au
Joanne Been
p: +61 2 9260 2579
e: joanne.been@sparke.com.au